Cole's career-high 12 K's help end three-game skid
Cole's career-high 12 K's help end three-game skid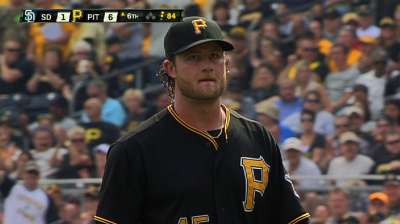 PITTSBURGH -- The time is here. But instead of slinking apprehensively into the most consequential final home series in the club's 127-year history, the Pirates, thanks to Gerrit Cole, will storm into their Reds-letter day weekend.
For six innings on Thursday afternoon, Cole strong-armed a San Diego team that had given the Bucs fits this week, striking out a career-high 12 while scattering four hits and three walks in a 10-1 win over the Padres at PNC Park.
"We were in a little bit of a skid there," Cole said after most of a crowd of 26,242 had exited waving their Jolly Rogers. "I think everybody likes to face the best guys, get the best game, the pressure situations ... if you don't, I don't know why you're here."
"This was a feel-good for everybody," Pirates manager Clint Hurdle said after the rare lopsided victory, as the Bucs scored more than twice the runs they'd totaled (four) in the first three games of the series. "Up and down the lineup, we had much better at-bats. But it usually starts on the mound -- and this was a powerful outing from Gerrit."
Cole thus set a proper stage for the Bucs to drop the home curtain as never before. While still one game behind St. Louis for first place in the National League Central after the Cardinals' loss Thursday, the Pirates have a one-game lead for the No. 1 NL Wild Card spot over Cincinnati -- and this will mark the first time they will conclude their home schedule in a head-to-head matchup against the team with which they're competing for a postseason berth and separated by fewer than 2 1/2 games. Their magic number to clinch a postseason spot is four.
The Pirates convincingly broke San Diego's pitching spell over them, snapping a 1-1 tie with five runs off right-hander Ian Kennedy in the fourth, then added three in the seventh and one in the eighth.
Cole's chief accomplice was Neil Walker, a famously streak hitter who may have picked a fine time to catch fire. Walker went 4-for-5 -- he had three hits in his last 12 games -- and drove in three runs, two on his first home run since Sept. 2.
"I don't know about getting hot, but four hits obviously feel good. One guy can make it really tough on you and, to be honest, the first three guys who faced us did a pretty good job," said Walker, citing San Diego's starters prior to the series finale: Andrew Cashner, Eric Stults and Tyson Ross.
The headliner, however, was Cole, whose 12 strikeouts -- nine was his previous high, posted only two starts earlier -- were the most for a Pittsburgh rookie since Jose DeLeon struck out 13 Reds on Aug. 20, 1983.
"From the first time we saw him I thought he was a lot more polished today," said Padres catcher Nick Hundley, recalling an Aug. 21 meeting in San Diego when Kennedy beat Cole, 2-1, and the rookie allowed 10 hits. "He threw four pitches for strikes, he was reaching 97-98 [mph]. He was using both sides of the plate. He threw me changeup, slider, curve, everything -- fastball away, fastball in. When a guy with that type of stuff starts to pitch that way, the sky is the limit."
"He pushed the bar up his last couple of outings, and pushed it up again," Hurdle said of a pitcher who just turned 23, and "continues to grow up right in front of our eyes. The bar will eventually settle. I mean, 12 [strikeouts] is a lot. But let him keep drawing on that chalkboard -- a very impressive outing."
Cole's role as the team's young stopper was emphatically affirmed. His last three starts, all wins, have followed Pittsburgh's losses, including arguably the two lowest points of the season:
• Coming off the Sept. 6-8 sweep in St. Louis, he picked up a 1-0 victory in Texas to snap a four-game losing streak.
• Staring at a four-game sweep by the Padres on the approach to the huge weekend showdown with the Reds, he muted San Diego to give the offense a chance to come out of hibernation.
"He's been extremely impressive," Walker said, "he has gone out there the last two weeks, and basically said, 'I'm going to take this on my shoulders and do what I need to do to help this team win.'"
"Obviously, you don't want to come in with a three-game losing streak," Cole said. "I'd much rather have been going for a sweep of the Padres. But it is what it is, and I tried to treat it like every other game. It was nice to be able to give the team a chance to win. If you keep throwing up zeros, you usually start to grab some momentum and the team has a better chance to start putting some balls in play."
The team did so in the fourth against Kennedy, with their most prolific inning in three weeks, a five-run surge detonated by Pedro Alvarez's 34th home run, and continued by Jose Tabata's two-run double and Walker's two-run homer.
The teams exchanged first-inning runs, as Tommy Medica's two-out single accounted for San Diego's score and the Pirates responding when Andrew McCutchen bounced into a force with runners at the corners and none out.
"Maybe I should start [getting mad] before the first, so I could stop doing that," said Cole, who on numerous occasion has allowed first-inning scores, then barred through the rest of his outing. "It doesn't make me happy to come out and put the team in a hole. But if you can adjust from that and put it behind you, you can find some momentum."
Tabata and Walker added RBI singles in the seventh, and Alvarez had an RBI ground out in the eighth.
Tony Watson, Jason Grilli and Stolmy Pimentel pitched scoreless innings out of the bullpen.
Tom Singer is a reporter for MLB.com and writes an MLBlog Change for a Nickel. He can also be found on Twitter @Tom_Singer. This story was not subject to the approval of Major League Baseball or its clubs.