Kennedy's shortest Padres start snaps win streak
Kennedy's shortest Padres start snaps win streak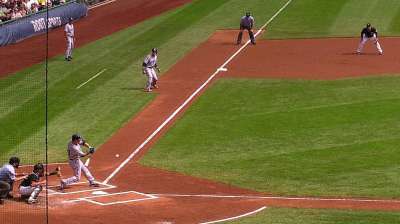 PITTSBURGH -- The Padres' string of strong starting pitching performances came to an end as they lost to the Pirates, 10-1, to snap a four-game winning streak on Thursday afternoon at PNC Park.
The Pirates salvaged the last of the four-game series and moved to one game up on the idle Reds for the top National League Wild Card spot. The Pirates are 11-31 against the Padres at PNC Park since it opened in 2001.
Right-hander Ian Kennedy lasted only 3 2/3 innings -- his shortest of nine starts with the Padres -- and was tagged for six runs on eight hits. He took the loss, falling to 6-10.
"Kennedy didn't really command his pitches in the fourth," Padres manager Bud Black said of the Pirates' five-run inning. "He was hanging in there through the first three, they stressed him a bit, but he got out of a little bit of trouble. But a ball up over the plate to Alvarez and a breaking ball up to Walker [hurt him] -- Tabata, the ball was up out over the plate that he hit to right field over Venable's head. That was critical, that was a big part of the game. It was 2-1 at that point with two outs, we got the strikeout with guys on second and third, but I think that was the back breaker that got them to 4-1."
The Pirates got another strong outing from rookie right-hander Gerrit Cole, who struck out a career-high 12 in six innings and allowed one run on four hits and three walks. Cole won his third straight decision, upping his record to 9-7.
"Cole had good velocity, for one," Black said. "I think that he had good life on the fastball, good spots, too. He was working both sides of the plate, but we just couldn't get to the fastball. I think we knew it was coming, he located some pitches and he threw down and away well. He pitched in, he pitched up, he mixed it up a little bit with the slider and a few changeups, but I think today was just about the fastball."
Padres catcher Nick Hundley was impressed with Cole.
"From the first time we saw him I thought he was a lot more polished today," Hundley said about an Aug. 21 Padres win when Cole allowed 10 hits. "He threw four pitches for strikes, he was running up to 97-98 [mph], using both sides of the plate. I think he'll continue to evolve as a pitcher. He threw me changeup, slider, curve, everything -- fastball away, fastball in. When a guy with that type of stuff starts to pitch that way, the sky is the limit for a guy like that."
Cole has impressed his teammates as well.
"He's been extremely impressive," Pirates second baseman Neil Walker said after going 4-for-5 with a home run and three RBIs. "He has gone out there the last two weeks, and basically said, 'I'm going to take this on my shoulders and do what I need to do to help this team win.' So many different guys have pitched in, and that's the sign of a good team."
The Padres scored a run off Cole in the first inning, when with one out Chris Denorfia doubled and Jedd Gyorko drew a walk. Chase Headley bounced into a fielder's choice, moving Denorfia to third, and Tommy Medica drove him in with a single to right. Medica has six RBIs in his first nine Major League games.
The run continued a string of first-inning woes for Cole, who came into the game having allowed 11 earned runs in 17 first innings for an ERA of 5.82.
The Pirates came right back in the bottom of the inning. Jose Tabata was hit by a pitch, and then employing the hit-and-run, Walker singled to right off Kennedy, putting runners at first and third. Andrew McCutchen grounded into a fielder's choice and Tabata scored.
Pedro Alvarez put the Pirates ahead 2-1 in the fourth when he smacked his 34th home run of the season, tying Arizona's Paul Goldschmidt for the National League lead.
The Pirates added to the lead when Tony Sanchez singled and Jordy Mercer doubled, putting runners at second and third. With two outs, Tabata doubled, sending home Sanchez and Mercer. Walker then hit a two-run homer to right, giving the Pirates a 6-1 lead and chasing Kennedy. It was home run No. 11 for Walker.
The Pirates tacked on three more in the seventh against Padres reliever Anthony Bass on a two-run single by Tabata and an RBI single by Walker to make it 9-1.
The Pirates kept pouring it on, adding a run in the eighth on an RBI groundout by Alvarez to score Justin Morneau, who had doubled and moved to third on a single by Marlon Byrd.
The Padres return home for their final homestand after posting a 6-4 record on the completed 10-game road trip.
"We played well on this trip," Black said. "We went down to Atlanta and won that series, and we came here and played well, but it's all about how we pitched prior to today. We didn't pitch well today, but our guys know that if we pitch well, we've got a chance to win and our guys kept playing hard."
George Von Benko is a contributor to MLB.com. This story was not subject to the approval of Major League Baseball or its clubs.