LA's first win-and-in shot is stuffed in Arizona
LA's first win-and-in shot is stuffed in Arizona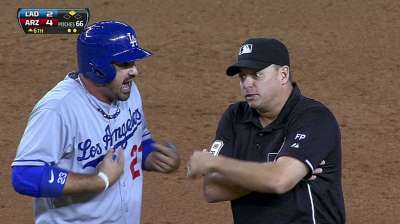 PHOENIX -- You didn't really think the Dodgers would wrap it up quick and easy now, did you?
Front-office officials were hoping so, parachuting in for the anticipated celebration, but the Dodgers' National League West-clinching party was postponed by a bizarre 9-4 loss to the D-backs on Wednesday night, as the magic number remained two with the series finale set for Thursday afternoon.
Stephen Fife, getting the spot start so Clayton Kershaw could get three extra days' rest, didn't get out of the third inning. He was charged with four runs and walked three, hit two batters and threw two wild pitches. Dodgers pitchers walked 10, Arizona pitchers walked none.
During the wild affair, Yasiel Puig doubled, then was immediately picked off. Adrian Gonzalez doubled, then was immediately ejected. Manager Don Mattingly even tried to make a pitching change and was prevented from doing so by plate umpire Joe West.
The lineup had Matt Kemp for a second consecutive game and Carl Crawford for the first time since Sunday, but with Hanley Ramirez down again and Andre Ethier still out, the offense never could make up for the four-run hole Fife dug, not even with home runs from Puig and Tim Federowicz.
The Dodgers pulled to within a run in the seventh, but Ronald Belisario allowed a career-high five runs in the eighth.
Now the Dodgers, who played .800 ball for nearly two months, are 4-10 since Sept. 4. Mattingly wouldn't bite when asked if he was frustrated by the recent play.
"Those games are gone and the situation where we're at, I like where we're at," he said. "Tonight was a frustrating game. Other than that, I'm not frustrated."
Nor would he second-guess himself for pushing Kershaw back three days, providing the ace rest while setting up the rotation for the playoffs. The regret, Mattingly said, was not having a healthy Chris Capuano (groin strain) to slide into Wednesday's start.
"That's one thing, you look back on, if Cap is healthy, you wouldn't have to start Stephen," Mattingly said. "Cap's a different animal."
Of course, there's hardly an issue involving the Dodgers that doesn't eventually come back to injuries. Kemp went 1-for-4 with two hard-hit outs. Crawford legged out an infield single in three at-bats.
Meanwhile, Gonzalez remained the voice of reason among the players.
"We're fine," he said. "Win tomorrow. If not, win two in San Diego."
Puig had a busy and regrettable first inning. He led off the game with a double, then was picked off second by Arizona catcher Miguel Montero when Crawford bunted through a pitch. In the bottom of the first, Adam Eaton caught Puig napping in right field and hustled a single into a double as Puig overthrew second base.
"[Puig] was coming easy, he assumed [Eaton] was not going to run and he just took advantage of him," Mattingly said of Puig, who had three hits.
One out later, Paul Goldschmidt concluded a 10-pitch at-bat with his 34th home run on a 3-2 pitch from Fife. Goldschmidt has six homers and 20 RBIs against the Dodgers this year.
The Dodgers gave Arizona two more runs in the third, and Mattingly was in such a hurry to take out Fife that he tried to follow a trip to the mound by pitching coach Rick Honeycutt with one of his own during the same at-bat. West wouldn't allow it because there can only be a second mound visit during the same at-bat if a pitcher is injured.
The Dodgers battled back. Puig led off the fourth inning with a mammoth 442-foot homer, his 17th. Crawford, Michael Young and Gonzalez strung singles for a second run, but Arizona starter Brandon McCarthy struck out Kemp, got Mark Ellis on a forceout and Punto on a lineout.
The Dodgers then had a runner thrown out at the plate, and one on second base thrown out of the game, on the same bizarre play in the sixth inning. Young, who had singled with one out, was called out trying to score on Gonzalez's double, first-base umpire Jim Joyce making the call as the umpires rotated.
The replay supported the complaints of Young and Mattingly that the runner was safe. Meanwhile, standing at second base, Gonzalez was tossed by second-base umpire Andy Fletcher for complaining that Joyce was out of position, his third career ejection.
"I said if you guys are going to switch [stations during the play], hustle so you'll be in position to make the call, and that's when he threw me out," Gonzalez said. "We all know he got it wrong because he's not in position to make the call. I could see it from second base."
Punto led off the seventh with a single and was doubled home by Federowicz, closing the gap to 4-3. Puig was credited with an infield single to put runners on the corners, but Joe Thatcher got pinch-hitter Scott Van Slyke on an inning-ending double play.
Belisario took the mound in the eighth and the D-backs made the Gonzalez-Young call seem less significant, as Belisario allowed five runs on two hits, three walks and a hit batter while recording one out to make it 9-3.
Federowicz hit a two-out homer in the ninth to finish the scoring, but the Dodgers' title hunt continued another day.
"You understand where things stand, but you don't want to see them celebrate," said McCarthy. "You knew coming into this season they were our competition, they were the ones that caught and passed us, we're all aware of those things. You just don't want it, not rubbed in your face, but you just don't want to see it. If they go somewhere else, whatever happens is fine, you just don't want to them to do it on your home field and have to sit there and know that it's going on."
Ken Gurnick is a reporter for MLB.com. This story was not subject to the approval of Major League Baseball or its clubs.