Helton relishes big moment, if not better result
Helton relishes big moment, if not better result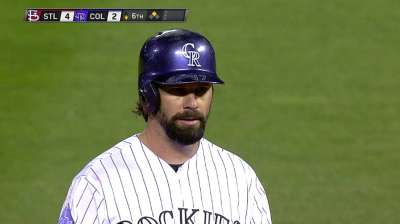 DENVER -- Todd Helton preferred the storybook finish. But in the final days of his 17-season career, he realizes even the near-misses are glorious.
The Rockies gave him loaded bases with two out in bottom of the ninth inning. It was a chance for the Rockies to capture a rare win in a game when Cardinals standout Adam Wainwright pitches.
Instead, Cardinals closer Edward Mujica blew an elevated 1-2 fastball by Helton. The Cardinals walked away with a 4-3 victory at Coors Field, as well as a two-game lead in the National League Central.
"The moment was great," Helton said, smiling behind his heavy black goatee. "You couldn't ask for a better moment. You could ask for a lot better result. But just learn from it and go on."
The Coors Field crowd of 26,955, with a significant number of red-wearing supporters of the visitors, left without a dramatic memory. But it's a memory, and at 40, Helton isn't going to make many more of those in baseball. He recently announced his retirement, effective at season's end.
Wainwright (17-9) entered with a 1.17 ERA in 10 games against the Rockies. Last time he faced them, a 3-0 win on May 11 at Busch Stadium, Wainwright took a no-hitter into the eighth. But this time, the Rockies scored two runs in the first, on Troy Tulowitzki's single, and three total against Wainwright with 10 hits in his 7 2/3 innings. Still, Wainwright, who was 3-for-3 with two RBIs, and the Cardinals prevailed.
Dexter Fowler, playing sparingly because of a twisted left knee, singled off Mujica to open the ninth. An intentional walk to Tulowitzki and Charlie Culberson's hard single off the left shoulder of third baseman David Freese set up Helton.
"That's why you play the game, to be in that position right there," Helton said. "You always don't come through. That's why I don't get too excited when I do.
"It just didn't work out. I hope to be there tomorrow."
Rockies manager Walt Weiss has vowed to give Helton as many chances as possible.
"I was betting on Todd right there to deliver the big hit like he has for years," Weiss said.
Wainwright admitted believing the game was headed for fairy-tale material. Instead, the Cardinals (89-63) are living the dream. Their two-game lead over the Pirates -- who have dropped the first three meetings of a four-game set with the Padres -- is the biggest lead St. Louis has had since being up 2 1/2 on July 26.
"When they load the bases, as much faith as I have in Mujica, you hear, 'Now, coming to the plate, Todd Helton,' you kind of go, 'Oh, man, it's just too perfect,'" Wainwright said. "But he pitched him perfect. That last pitch was just almost like a thing of art, it was just perfect."
Helton's sixth-inning hit was his 587th double, 16th most all-time. His 2,507 hits place him 96th all-time. He is seven hits behind Buddy Bell, who was the Rockies' manager in Helton's eye-popping 2000 season -- when he led the league in batting and many other offensive categories.
A Helton game-winning hit in the ninth would have put a happier face on yet another painful night for the Rockies (69-84), who are last in the NL West and are fast running out of healthy players.
NL batting leader Michael Cuddyer exited with a left wrist injury and right forearm contusion, both of which he suffered while diving to catch Daniel Descalso's line drive to end the top of the sixth. Cuddyer is listed as day to day.
Cuddyer, an All-Star who went 1-for-3 to finish the night with a .331 batting average, joins All-Star left fielder Carlos Gonzalez (sprained right middle finger), Fowler, Gold Glove-contending rookie third baseman Nolan Arenado (sore right thumb) and 21-homer-hitting catcher Wilin Rosario (strained right calf) on the day-to-day shelf.
Nonetheless, the Rockies, who scored in the sixth when Helton doubled and scored on Charlie Blackmon's single, did about as much as they could hope to against Wainwright.
"You see it a lot with the great ones -- you might get them in the first inning occasionally, then they settle in," Weiss said. "It looked like Wainwright found his curveball and fell into that groove and found his slot. It was really effective after the first couple innings."
Wainwright doubled in Descalso and scored on Matt Carpenter's single for a 2-2 tie in the third against Rockies starter Tyler Chatwood (7-5). Wainwright added an RBI single in the fourth to drive in Yadier Molina, who had opened the inning with a double. Matt Holliday doubled in the fifth and scored on Molina's double for a 4-2 lead.
Chatwood gave up eight hits and four runs in six innings but kept the Rockies close against Wainwright.
"Those are the type of games you want to be in -- it's a playoff team and he's one of the best pitchers in the league," Chatwood said. "That's the competition you want to go out there against."
Cardinals reliever Trevor Rosenthal replaced Wainwright with runners at first and second in the eighth, and forced Blackmon to ground to the right side of the infield to hold the lead for Mujica, who robbed Helton of a chance at magic.
Thomas Harding is a reporter for MLB.com. Read his blog, Hardball in the Rockies, and follow him on Twitter @harding_at_mlb. This story was not subject to the approval of Major League Baseball or its clubs.