Brewers cruise after first-inning grand slam
Brewers cruise after first-inning grand slam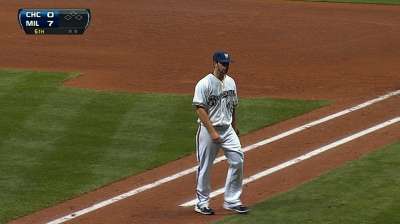 MILWAUKEE -- Tyler Thornburg was an enigma. Nobody could explain the contrast between his poor play in the Minors and his success with the Brewers.
No matter the explanation, that trend continued Wednesday night. Thornburg was slated an early lead at Miller Park and helped shut out the Cubs in a 7-0 Brewers win, his third big league start without allowing an earned run and his sixth quality start in six tries this season.
The 24-year-old right-hander, who went 0-9 with a 5.79 ERA in 15 starts at Triple-A Nashville, has made it look easy in his Major League starts this year.
After Thornburg's latest blanking of the Cubs -- he also did so in six innings July 30 -- he may have helped ease the head-scratching.
"I think just mentally when you realize how much something matters up here," Thornburg said. "I think I was a little upset being in Triple-A. Honestly, I was kicking myself a little bit too much. Doing the things that I necessarily wouldn't do normally as far as trying to throw different pitches, trying to develop a couple pitches. It just got me into trouble a little bit. Up here, I stuck with my three good pitches, and really trying to improve upon those."
Thornburg's fastball, curveball and changeup were good enough Wednesday to lift the Brewers to their fourth straight win. Thornburg limited the Cubs to just two singles while walking two and striking out four. He did not allow a baserunner to reach second base, throwing 91 pitches (54 for strikes) and lowering his big league ERA to 1.96. Thornburg is 2-1 with a 1.25 ERA.
It was the Brewers' third consecutive quality start. Of Thornburg's six Major League starts this season, he has never failed to reach six innings pitched, and he has not allowed more than two earned runs.
Thornburg had early help Wednesday from a Sean Halton first-inning grand slam that yielded a 5-0 lead. Halton, who played with Thornburg the past two seasons at Nashville, was not fooled by his teammate's swollen numbers in the Minors.
"He can pitch; I've seen it," Halton said. "I remember facing him in Spring Training after he had just signed. Everybody was real excited about him and called him 'The Freak,'" because of the similarities in delivery to Giants right-hander Tim Lincecum.
"It was a little more exaggerated then; they've calmed it down some," Halton added. "He was blowing it by people, and I remember going up there like, 'Man, I'm going to hit him. Who is this kid?' Three straight [strikes] later, see ya."
Brewers manager Ron Roenicke still did not have a clear answer Wednesday for Thornburg's jump in performance.
"It's hard to explain," Roenicke said. "I know it's an excuse, but I heard he had the worst luck you can have at Triple-A. I don't know; I wasn't there. But he's pitched great. He's confident. He gets a little wild at times, and then he comes back and makes great pitches. He's got three really good pitches -- really good fastball, great curveball, really good changeup. And he can mix in the two off-speed pitches, depending on what's going well that day. Today, it was the curveball."
The Brewers have had a knack for winning games late this week, but Wednesday they wasted no time putting the Cubs away.
Halton opened the game up early with his fourth big league home run and his first grand slam, a two-out, opposite-field shot off Cubs starter Chris Rusin in the first inning. Halton sent a 3-2 Rusin sinker out to right field for his third home run in a 15-at-bat stretch to help the Brewers build a quick 5-0 lead.
"That guy [Rusin], he's a good pitcher," Halton said. "I faced him all the way up in the Minor Leagues, and he's had his days, believe me, where he's gotten me. If you let him settle in, you can easily look up in the seventh inning and have no runs and a couple of scattered hits. He's that kind of guy."
Halton also ended Sunday's game against the Reds with a walk-off home run. Roenicke expressed some lighthearted jealousy.
"I was telling Jerry [Narron, his bench coach], I didn't play that long in the big leagues, but I didn't hit a grand slam, and I never hit a walk-off homer, and [Halton] has done it in a short time," Roenicke said.
Khris Davis added a towering solo home run to the Brewers' bullpen in left-center field in the fourth inning, his 10th home run of the season and his first since Sept. 4. Wednesday was the first action of the series for Davis, who has dealt with a left wrist injury the last two weeks.
The Brewers, who walked off Sunday and Tuesday against the Reds and Cubs, respectively, improved to 5-1 on their final homestand of the year and upped their record to 13-5 against their National League Central rivals this season with the final meeting and a chance to sweep coming Thursday.
Losing to the Brewers stung a little more for Cubs manager Dale Sveum, who started his playing career in Milwaukee and also coached with the Brewers.
"I'd be lying if I said it didn't [bother me]," Sveum said. "Of all teams to play bad against all the time, that's not the one you want to."
Brewers All-Star shortstop Jean Segura scored the game's first run, but he limped into the Brewers' dugout with what was later called a strained right hamstring. He was replaced defensively by Jeff Bianchi in the second inning, and the Brewers said he was day to day.
Kevin Massoth is an associate reporter for MLB.com. This story was not subject to the approval of Major League Baseball or its clubs.