Medica looking sharp in first MLB starts
Medica looking sharp in first MLB starts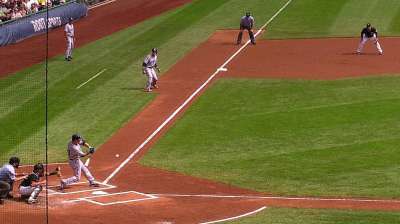 PITTSBURGH -- First baseman Tommy Medica made his ninth straight start to begin his career on Thursday and could see plenty of action during the last week and a half of the season. Yonder Alonso is trying to get back in the lineup this season, but he is sidelined because of soreness in his right hand.
Medica went 1-for-3 with a walk and an RBI single in the 10-1 loss in Pittsburgh and is hitting .273 with two home runs and six RBIs, and he is adjusting well to the big leagues.
"Guys up here, the pitching, they definitely have some good stuff, that's for sure," Medica said. "The guys have been great. I knew a few of the guys, it's nice having some younger guys here, but it's been real exciting.
"I guess I'll have almost a month by the time the season's over, but it's a big learning process, just kind of seeing how the pitchers try and get you out, and just getting used to the whole environment up here is a little different."
Padres manager Bud Black likes what he's seen from Medica.
"Tommy's done a nice job really fitting in with the group," Black said. "There is a calmness to him, there's a confidence to him that we all like. On the field, coming in, I heard that this guy swings the bat, he can get the bat to the ball, he's got a nice stroke, he's got some strength to his swing, and really there hasn't been a whole lot of bad at-bats. He's swung at a few breaking balls in the dirt and chased a little bit, but overall his at-bats have been solid. I like the true ability to hit. He's done a nice job, and defensively, he's holding his own."
George Von Benko is a contributor to MLB.com. This story was not subject to the approval of Major League Baseball or its clubs.