Crawford returns; Ethier needs more time
Crawford returns; Ethier needs more time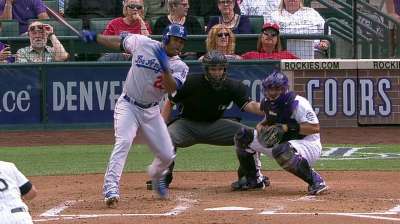 PHOENIX -- Carl Crawford was back in the Dodgers' lineup on Wednesday night after missing most of the previous four games with lower back pain, while Andre Ethier remained out and reported only slight improvement in his sprained left ankle.
Manager Don Mattingly said he was hopeful Ethier would be able to work out with the club on the field this weekend in San Diego. Ethier, who continues to use a walking boot when he's not at the ballpark, said he still feels pain from the injury that has sidelined him since Saturday.
Mattingly said he will "be careful" with Crawford, sitting him against upcoming left-handed opposing pitchers and starting Scott Van Slyke in left field.
With Hanley Ramirez returned to the lineup Tuesday night, then out of the lineup Wednesday night, Mattingly was asked if he was worried about the shortstop being healthy for October.
"In a sense, I worry about all the guys," he said. "If Andre has a setback, Crawford, just not having guys at full strength. You can only do so much."
Mattingly said Chris Capuano had a platelet-rich plasma injection in his groin strain and might throw a bullpen in San Diego over the weekend.
Ken Gurnick is a reporter for MLB.com. This story was not subject to the approval of Major League Baseball or its clubs.