Bullpen takes loss after Cain pitches into eighth
Bullpen takes loss after Cain pitches into eighth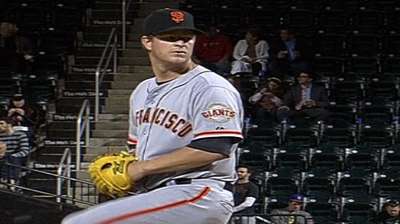 NEW YORK -- Though the Giants resigned themselves to their forgettable fate long ago, lapses such as Wednesday night's still sting.
Josh Satin hit a bases-loaded, two-run single off Sergio Romo to cap a four-run rally in Wednesday night's ninth inning for the Mets, who surged past the Giants, 5-4, at Citi Field.
"We're looking to win every game, and losing one like this is definitely not easy to swallow," right-hander Matt Cain said.
The outcome did nothing to decelerate Cain's second-half surge. Facing a lineup that included five starters who spent time in the Minor Leagues this year, Cain dominated the Mets exactly as he should have, allowing six hits and just two Mets to reach scoring position.
As the Giants took a 4-1 lead into the ninth inning, Cain had his first September victory in sight.
"When you're playing the world champs, they've got you [down] by three and Matt Cain's mowing you down -- I'm not saying they're saying this, but it's very easy to say, 'Well, we're not supposed to hit this guy. He's an All-Star. We're young,'" Mets manager Terry Collins said of his team. "But you've got to go battle."
The Mets did just that, dealing the Giants only their third defeat in 59 games when they led after eight innings.
Andrew Brown opened New York's ninth by drawing a walk from Santiago Casilla, who also walked Juan Lagares one out later. Giants manager Bruce Bochy preferred to avoid using Romo, who threw 25 pitches Tuesday night. But Bochy had no choice but to summon his All-Star closer. Romo had begun warming up before the Mets' half of the ninth began, just in case.
"He was fine to go," Bochy said of Romo (4-8). "Occasionally you try to find a way to give him a break, but once you get your closer up and [there are] a couple of walks, you bring him in."
Pinch-hitter Zach Lutz doubled to score Brown before Juan Centeno's infield single sent home Lagares. Matt den Dekker then walked to load the bases.
Pinch-hitter Omar Quintanilla flew out to shallow right field, forcing Lutz to hold at third base. But he came home anyway, and so did pinch-runner Anthony Recker, as Satin stroked a 2-2 pitch into left field and ended San Francisco's four-game winning streak.
Before the game, Bochy observed that Romo was the Giants' lone Major League participant in the World Baseball Classic who had remained healthy all season. Five of the six others -- left-hander Jeremy Affeldt, third baseman Pablo Sandoval, center fielder Angel Pagan and right-handers Ryan Vogelsong and Santiago Casilla -- spent time on the disabled list this season. Though second baseman Marco Scutaro avoided going on the DL, he has endured recurring back problems.
"I'm fine," Romo said. "I feel good."
But he didn't feel good about blowing his fifth save opportunity in 40 chances.
"It's baseball, really," Romo said. "Sometimes it's going to be a lot of stuff. It's not easy being a Major League baseball player."
After posting a 5.06 ERA in the season's first half, Cain can vouch for that. Since the All-Star break, he has recorded a 2.34 ERA, shaving his overall ERA by exactly a run. He also has sparkled on the road, where he's 4-0 with a 1.05 ERA in seven starts since June 2.
"I wasn't just going to shut it down because things weren't going great," said Cain, who attributed his improvement to sharpening his mechanics. "You're going to go through that rough patch in your career. When things are going bad, you have to find ways to get around it."
With 10 games remaining, the Giants still aren't getting around the disappointment of this season.
Chris Haft is a reporter for MLB.com. This story was not subject to the approval of Major League Baseball or its clubs.