Kelly doesn't think calf sprain will keep him sidelined
Kelly doesn't think calf sprain will keep him sidelined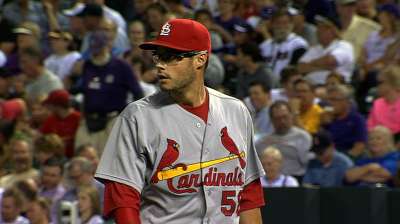 DENVER -- Cardinals right-hander Joe Kelly said tests on his sore right calf Wednesday revealed nothing more than a slight sprain with no structural damage.
Kelly is confident he'll be ready for his next start, scheduled for Sunday in Milwaukee, but understands that he might be skipped to prevent further damage.
"Personally, I think I could go," Kelly said. "Just something to test out, something you don't want to go out there and not be 100 percent and mess it up worse. There's two starts left, and if I ended up missing one, I'd have one before the playoffs. It's just something you don't want to be going into the playoffs with."
He tossed five scoreless innings in an 11-4 win over the Rockies on Tuesday and was pulled due to tightness in his right calf, just behind the knee. Kelly followed his usual routine Wednesday with a leg workout and plans to jog on Thursday.
Manager Mike Matheny said the decision on Kelly's next start leans heavily on how he progresses.
"We saw it as one of those days yesterday that it just wasn't feeling as good," Matheny said. "Got the medical staff involved and we'll go ahead and see what they see, but for the most part we trust what he feels. It was good to get him out yesterday a little sooner than what we normally would."
Since becoming a full member of the starting rotation July 6, Kelly has been one of St. Louis' most reliable arms. His 1.94 ERA since June 1 -- he spent the first portion of the year as a reliever -- is second-best in the Majors over that span behind Marlins phenom Jose Fernandez.
Ian McCue is an associate reporter for MLB.com. This story was not subject to the approval of Major League Baseball or its clubs.