Beltran given night off in Denver amid slump
Beltran given night off in Denver amid slump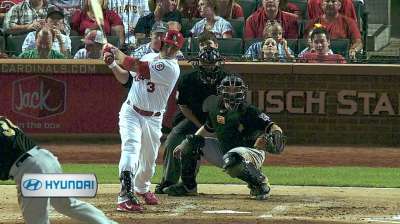 DENVER -- It's the time of the season when a day off can be somewhat crushing, because it takes away any chance to help your club make that push for October.
But Cardinals manager Mike Matheny knows days off in September can pay major dividends in the postseason, so he gave right fielder Carlos Beltran a day of rest Wednesday.
"I think obviously we miss Allen Craig but this season has been a little different for a lot of these guys," Matheny said. "They've been able to get more rest and I think it's helped over the long haul."
Beltran, an All-Star for the eighth time this year, is enduring a recent slump. He has just two hits in his past 24 at-bats and is 0-for-9 in the first two games of this series with the Rockies. Beltran is hitting .171 with six RBIs over his past 12 games and hasn't hit a home run since Aug. 24.
But based on previous experience, Matheny expects one of the cornerstones of his lineup to return to his usual form soon.
"In the past I've been able to give him a day here or there and all of a sudden he's right [back to where he was]," Matheny said. "He's not far off, because he's made some real hard outs.
"His swing's real close, but I think sometimes just taking a little breath [helps]. Especially right now, guys are really grinding, pushing. Every game is so much fun and being so into it, you're little more spent and then you mix in Colorado, you mix in Coors Field. There's a lot of stuff that goes into it right now."
Asked if Beltran might be pressing since he started spending more time in the cleanup spot, Matheny denied any such notion. Though Beltran's seen significant time at the Nos. 2, 3 and 4 spots in the lineup, Matheny doesn't see any connection between his recent struggles and a new lineup slot.
"I think you could maybe say that about some less experienced players," Matheny said. "But you guys have seen Carlos. He's one of the most laid-back people you'll ever come across in life. I mean he's intense, but stuff like that, he doesn't overthink it."
Ian McCue is an associate reporter for MLB.com. This story was not subject to the approval of Major League Baseball or its clubs.