Tuffy having 'a blast' in first taste of big leagues
Tuffy having 'a blast' in first taste of big leagues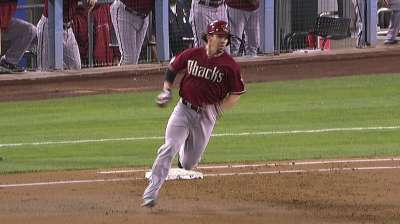 PHOENIX -- If anyone on the D-backs' roster knows how to appreciate the little things, it's Tuffy Gosewisch. After spending parts of nine seasons in the Minors, the backstop has been up with Arizona for all but one week over the last two months. But even though the 30-year-old has made just nine starts in his first taste of the big leagues, he isn't letting limited playing time stand in the way of enjoying himself.
"It has been a blast," Gosewisch said. "I just come to the field every day, and if I'm in the lineup, I'm happy and do everything I can to help the team win. If I'm not, I'm trying to get better in another way. I'm getting stronger, working on catching or working with the pitchers and talking to guys, any way I can get better."
One unconventional way Gosewisch has done just that over the last couple days has been taking grounders at second base prior to games. He does it for fun, but given that the D-backs have already played 75 extra innings this season, you never know. And that work is on top of the daily blocking, throwing and catching duties he performs alongside veterans Miguel Montero and Wil Nieves.
"I'm settling in now, I feel comfortable," Gosewisch said. "I'm trying to keep my head down and keep the blinders on and stay focused. It has been a good learning experience so far."
In the games Gosewisch has gotten into, he has shown himself well, too. Entering Wednesday's contest, he was 7-for-34 with two doubles and two RBIs and more importantly, he hadn't allowed any passed balls or made any errors. So with current backup Nieves hitting free agency this offseason, Gosewisch could find himself competing for the job behind Montero come Spring Training 2014, a prospect that D-backs manager Kirk Gibson seems to welcome.
"Tuffy is great; he's enthusiastic and he comes with energy every day," Gibson said. "He takes great pride in what he does. He put in his time for sure before he got here, he has opened our eyes. He came with a high recommendation and didn't disappoint so I'd say the organization thinks very highly of him."
Tyler Emerick is an associate reporter for MLB.com. This story was not subject to the approval of Major League Baseball or its clubs.