D-backs turn away Dodgers with five-run eighth
D-backs turn away Dodgers with five-run eighth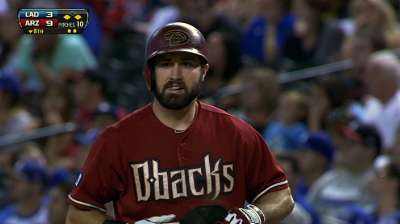 PHOENIX -- The celebration will have to wait at least one more day.
The D-backs prevented the Dodgers from clinching the National League West title when they beat their rivals, 9-4, in a wild game on Wednesday night at Chase Field.
The contest featured a player being ejected while at second base, baserunning miscues and a disputed call at home plate.
With the loss, the Dodgers' magic number to clinch the division remains at two. Should they beat the D-backs in the series finale Thursday afternoon, they will win their first division title since 2009. Arizona is nine games behind the Cincinnati Reds for the final NL Wild Card spot.
The D-backs know the Dodgers are going to win the division, but they don't want to host the party.
"It's still a pride thing," D-backs starter Brandon McCarthy said. "I mean, you understand where things stand, but you don't want to see them celebrate. If they go somewhere else, whatever happens is fine, you just don't want to them to do it on your home field and have to sit there and know that it's going on. If you can get them out of here without having to see it, then all the better."
The D-backs jumped on starter Stephen Fife for a pair of runs in the first inning thanks to Paul Goldschmidt's 34th homer of the year.
Goldschmidt leads the NL in RBIs with 118 while hitting .305. Wednesday's game was broadcast nationally on ESPN and D-backs manager Kirk Gibson was hoping Goldschmidt's performance might help influence some Most Valuable Player voters.
"They've been talking about other really good candidates, and we're certainly biased here, but he proves it day in and day out," Gibson said. "He's everything you could want and he's certainly deserving of the MVP award. We just have to keep jamming it down their throat."
The D-backs had a chance to do more damage in the inning, but left the bases loaded, a recurring theme for them early in the game.
Fife (4-4) clearly did not have his command and the D-backs chased him from a 3-0 game with one out and the bases loaded in the third inning.
Reliever Carlos Marmol promptly walked Eaton to force in the second run of the inning and give the D-backs a 4-0 lead.
But just when it looked like the D-backs were on the verge of blowing the game open, Marmol got A.J. Pollock to fly out and Goldschmidt to strike out to end the inning with the bases loaded once again.
In all, the D-backs left eight on bases through the first three innings.
The Dodgers were finally able to get to McCarthy (5-9) in the fourth when Yasiel Puig made up for an earlier baserunning blunder by hitting a solo homer. Adrian Gonzalez added an RBI single later in the frame to pull the Dodgers to within two runs, 4-2.
"It was just a really long, slow game," McCarthy said. "It wasn't moving. I like to keep things moving quickly, it kept getting bogged down. I think it's kind of hard to keep your mental tempo and try and stay where you want to be. It became an outing where you're just trying to fight through as long as you can, not sharp, but just try to get as deep as you can."
Gonzalez was ejected in the sixth inning after Michael Young was thrown out at home plate on Gonzalez's double to left-center.
Eaton tracked the ball down and and relayed to shortstop Chris Owings, who threw a dart to Miguel Montero at the plate. Replays would show that Young in fact got his hand across the plate before Montero's tag, but first-base umpire Jim Joyce, who rushed to the plate to make the call while home-plate umpire Joe West rotated to third for a possible play there, called Young out.
Gonzalez was unhappy with the decision and barked at Joyce from second base and second-base umpire Andy Fletcher ejected him.
"I said if you guys are going to switch [stations during the play], hustle so you'll be in position to make the call, and that's when he threw me out," Gonzalez said. "We all know he got it wrong because he's not in position to make the call. I could see it from second base."
Things got interesting in the seventh when Tim Federowicz doubled home Nick Punto to cut Arizona's lead to 4-3, but the D-backs blew the game open against Dodgers reliever Ronald Belisario in the eighth inning, plating five runs on two hits, three walks and a hit batter before the second out was recorded.
Steve Gilbert is a reporter for MLB.com. Read his blog, Inside the D-backs, and follow him on Twitter @SteveGilbertMLB. This story was not subject to the approval of Major League Baseball or its clubs.