Thursday's outing to determine Crain's next step
Thursday's outing to determine Crain's next step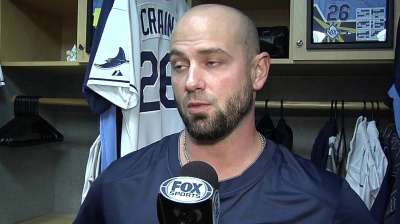 ST. PETERSBURG -- Rays reliever Jesse Crain will pitch in an instructional league game Thursday afternoon in Sarasota, Fla., which could be the final step in his rehabilitation process from a right shoulder strain he sustained before he was traded to Tampa Bay.
The goal is for Crain to throw around 20 pitches over one or two innings. Crain threw live batting practice to Rays hitters Monday and reported feeling normal soreness Tuesday.
The Rays' training staff will determine the next step for Crain based on how he feels after Thursday's outing.
"I think it's the right thing to do," Rays manager Joe Maddon said. "This is one of those patient moments. We're looking for the big payoff, but we're only going to get it if we do it right."
With less than two weeks left in the season, the clock is ticking for Crain -- who was named an American League All-Star for the White Sox this season -- to get on the field in a Rays uniform. The initial timetable he was given had him pitching by the end of August.
"I would have liked to have been in the last 2 1/2 months," Crain said. "As a competitor, you want to go out there every day, especially with the number of close games we've been in where I know I could have stepped in and helped, but it's a process. And it's something where you have to make sure when you come back, you're able to finish the season."
Sam Strong is an associate reporter for MLB.com. This story was not subject to the approval of Major League Baseball or its clubs.