Beckham gets the call from Rays
Beckham gets the call from Rays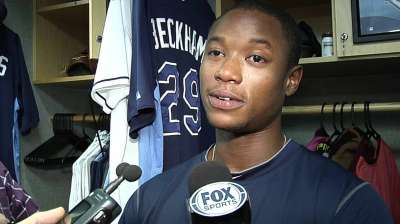 ST. PETERSBURG -- After falling to Omaha in the Triple-A Baseball National Championship Game Tuesday, infielder Tim Beckham received a piece of news he thought would be coming years earlier.
Beckham, the No. 1 overall pick in the 2008 First-Year Player Draft and the team's No. 16-ranked prospect, finally put on a Rays uniform as the team recalled him from Triple-A Durham on Wednesday and moved outfielder Brandon Guyer to the 60-day disabled list.
Beckham did not make it to Triple-A until the 2011 season and stayed there until Wednesday, while fellow top five picks of the same Draft -- Pedro Alvarez , Buster Posey, Eric Hosmer and Brian Matusz -- have since made the big leagues.
"It's still a dream come true to play in the Major Leagues," Beckham said. "It would have been great if it was a two- or three-year process, but you have to play the cards you're dealt. Sometimes, it takes a guy longer than another. You can't try to measure your success against other guys."
Manager Joe Maddon said he does not envision using Beckham in "high-leverage moments," but he still feels Beckham's time spent here could be valuable.
"He may not hardly get on the field, but when you get a guy up here and he feels what it's like, that can do something for his confidence," Maddon said. "Just being here and watching this could help."
Sam Strong is an associate reporter for MLB.com. This story was not subject to the approval of Major League Baseball or its clubs.