Sveum anticipates evaluations on horizon
Sveum anticipates evaluations on horizon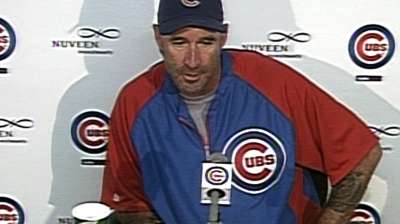 MILWAUKEE -- On Tuesday, Theo Epstein said Dale Sveum was being evaluated just like the players, and he would not say whether Sveum would return as the Cubs' manager. Sveum said Wednesday he understood the process and expected to know his future once the regular season ended.
"We've been in good communication through all this, and I understand that they go through what they have to go through on their end as far as the evaluation of myself and the coaching staff," Sveum said Wednesday about conversations he has had with Epstein, president of baseball operations. "That's basically where we are. It's the same as last year, and it'll always go on. That's the way it is."
The Cubs lost 101 games in Sveum's first year at the helm and have now lost 88 with 11 to go. Did Sveum feel he was safe for next year?
"I would hope to think so," he said. "I've been around the game long enough to understand how the whole process works. I've been happy with the way we've done things. Some things haven't gone too well, and some things have gone really well. I'm happy with my coaching staff and all that. That's up to [the front office], and they're the bosses, and they make those decisions and they have all kinds of things to evaluate."
Among the criteria Epstein said he was using to evaluate Sveum was the development of young players like Starlin Castro and Anthony Rizzo. Both have struggled this season.
"We all are accountable for people's production," Sveum said. "Obviously, they haven't had too good a season. On the other hand, it's only Rizzo's second season, and we seem to forget that a lot of times. This kid came up last year on top of the world, coming from Triple-A, and fell right in and was living on electricity last year.
"This year, he's putting too much pressure on himself for whatever reason," Sveum said of the first baseman, who was batting .227 with 22 home runs and 75 RBIs entering Wednesday. "This is a grueling season, and it's a grueling thing to be in the third hole in the Chicago Cubs' lineup in Chicago. Those are things that are learning experiences that go on.
"Castro has already been there and done that as far as two, three good seasons in a row, but Castro is really swinging the bat like he can [now], and going down the stretch, he's figured some things out and is doing really well right now."
Epstein did say the Cubs' staff may have tried to change Castro too much. The shortstop began the season with a career .297 average but was batting .243 this year.
"It's about trying to see pitches and walk more," Sveum said. "It's a fine line. You take somebody's aggressiveness away and you lose the ability to hit. Some people can do it, but that way of hitting isn't made for everybody. Some people are very good that way, and other people, you grow into it a little bit.
"Since we put him in the one hole and told him not to worry about swinging at the first pitch or anything like that and just be you, he's done pretty well," Sveum said of Castro, who was batting .262 leading off, and .286 on the road trip.
Epstein met with Sveum on Tuesday to go over the players, and the coaching staff was expected to meet Sept. 30 in Chicago after the regular season ends.
Carrie Muskat is a reporter for MLB.com. She writes a blog, Muskat Ramblings, and you can follow her on Twitter @CarrieMuskat. This story was not subject to the approval of Major League Baseball or its clubs.