Farrell keeping tabs on Tito's Indians
Farrell keeping tabs on Tito's Indians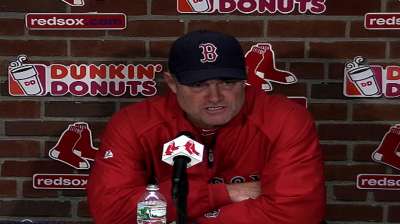 BOSTON -- Of all the opponents the Red Sox could face in the American League Division Series, the one that would come with the best built-in subplot would be the Cleveland Indians, who are managed by Terry Francona.
Not only did Francona lead the Red Sox to two World Series championships in his eight years in Boston, but manager John Farrell is one of his best friends in the game.
"There'd be a lot of stories to all of it if all of it works out," said Farrell. "Because we're in it, because we're fans of the game, yeah, we pay attention, but hell, we've got stuff to take care of ourselves."
Is Farrell watching any Indians action?
"Other than Yan Gomes getting hit with a breaking ball last night before the triple?" quipped Farrell. "Yeah, we're following."
Though the Indians weren't on a lot of people's radar before the season started, Farrell is hardly surprised by the job Francona and his team have done.
"Not at all," Farrell said. "They'd run through a wall for him. It's not surprising that even when they've had some injuries, whether it's to [Justin] Masterson or some other guys, that guys are stepping up. It's kind of characteristic of his teams."
Ian Browne is a reporter for MLB.com. Read his blog, Brownie Points, and follow him on Twitter @IanMBrowne. This story was not subject to the approval of Major League Baseball or its clubs.