Nats' offensive surge coincides with Schu's arrival
Nats' offensive surge coincides with Schu's arrival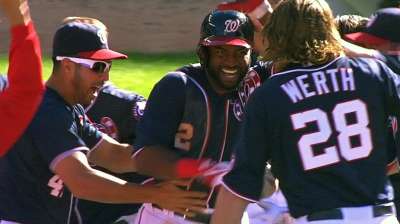 WASHINGTON -- Since the Nationals dismissed hitting coach Rick Eckstein and replaced him with roving hitting instructor Rick Schu, their offense has drastically improved. Whether the two changes are related, however, is unclear.
Schu joined the Nationals three games after the All-Star break. Prior to Wednesday's game, the Nats had increased their runs per game (to 4.70 from 3.76), batting average (to .274 from .241), home runs per game (to 1.23 from 0.91) and walks per game (to 3.07 from 2.79) in the second half of the season. However, they have also had a healthier lineup.
"I've said Rick Schu's a good hitting coach. Rick Eckstein's an outstanding hitting coach," manager Davey Johnson said. "They have basically the same philosophy: hit off the fastball. And the talent that we had here is the same talent, and they're getting the same message. They just didn't do it. ... It's always water seeks its level, and we were way down. We needed to come up."
Several players have praised Schu's influence, either in their own performance or the team's performance as a whole. Schu introduced a concept called "fluidity" to Denard Span, who entered Wednesday's game with a career-best 28-game hitting streak.
Chad Tracy credited Schu with much of the team's turnaround.
"I think when he came in, he just changed the whole atmosphere around here," Tracy said. "He brought in this personality that makes everybody relax. He's always laughing, smiling, joking around, putting on your genre of music when you come down there to hit, getting you in your flow. That kind of stuff goes a long way."
Tracy said that Schu has also brought a situational approach to the batting cage.
"The first couple of rounds, it's hit and run, infield back, infield in, get him over," Tracy said. "You have to do some things that you have to do in the game sometimes, and I think that helps some, too."
Tom Schad is an associate reporter for MLB.com. Bill Ladson is a reporter for MLB.com and writes an MLBlog, All Nats All the time. He also could be found on Twitter @WashingNats. This story was not subject to the approval of Major League Baseball or its clubs.