Hamilton steals four bags in first big league start
Hamilton steals four bags in first big league start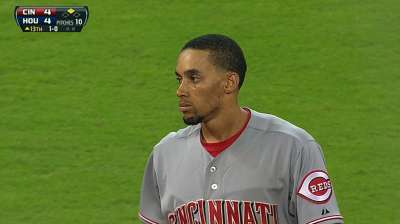 HOUSTON -- When Reds rookie and top prospect Billy Hamilton arrived at Minute Maid Park on Wednesday, he saw his name was in the second group for batting practice. Players that start for Cincinnati are usually in one of the earlier groups. Sure enough, Hamilton was given his first start in the Majors, batting ninth and playing center field against the Astros.
By the time it was all over, the Reds had a 6-5 win in 13 innings and the uber-speedy Hamilton reached base five times with three hits, four stolen bases and two runs scored, including the go-ahead tally in the top of the 13th.
"It was a pretty big game. I'm excited about it," said Hamilton, who was called up on Sept. 3. "Coming in, I was nervous. I got on the field and guys were on my side. They said, 'You've got to go between the white lines, no matter what level you're on.' That really gave me a bunch of confidence and settled me down a bit."
According to the Elias Sports Bureau, Hamilton is the first Major League player since the live ball era (since 1920) to record four steals in his first start. The last Reds player with four steals in one game was Felipe Lopez against the Nationals on May 10, 2006. Ryan Freel's five steals against the Dodgers on July 27, 2005, is the club record.
"My job is to steal bases, no matter how many I get," Hamilton said. "That's an accomplishment to get four in one game. Who knows what comes next?"
Hamilton wasted no time notching his first big league hit, slashing a double to left field in his first at-bat in the second inning before scoring on Shin-Soo Choo's RBI single. It was the first time in his brief big league tenure that Hamilton had been on base without notching a steal.
Choo, the regular center fielder, was shifted to left field to make room for Hamilton.
"It will be a rest day, kind of, with Choo moving from center to left," Reds manager Dusty Baker said before the game. "It's a rest from this big ol' Yellowstone center field here."
Hamilton's second hit, a single to left field, came with two outs in the fourth inning before he stole second base. In the sixth, he gave the Reds a 4-2 lead when his hit caromed off third base for an RBI single that scored Todd Frazier. Hamilton, of course, stole second base. He walked on four pitches in the ninth and stole second again.
"Billy makes it happen. Speed kills," Baker said after the game. "I gave him the green light to go whenever he wants to."
Hamilton's family, led by mother Polly, already departed home for Mississippi on Wednesday morning and wasn't able to be present for the start. They did see Hamilton play the final three innings of Tuesday's 10-0 win, but several friends were around for all 13 innings of Wednesday's game. That meant they could see when Hamilton walked against Jorge De Leon in the top of the 13th.
That time, the Astros called for a pitchout when Hamilton broke for second base. Catcher Matt Pagnozzi's throw was still not in time.
"I didn't realize it was a pitchout until I came in," Hamilton said. "It happens sometimes. You've got to throw the ball across the plate no matter if it's a pitchout or not."
Hamilton scored on Jay Bruce's two-run double to cap a very successful evening.
"He has a chance to be a great basestealer," Astros manager Bo Porter said. "He's one of those guys like a Rickey Henderson. You know they're running and there's not much you can do. You hope you hold the ball long enough so he doesn't get his best jump."
In his brief eight-game career, Hamilton is 9-for-9 in steals and has swiped as many bags as he has plate appearances. He is already second on the team in stolen bases behind Choo's 18.
"It shows they have a little confidence in me," Hamilton said. "I went out there and showed them I could play with the big league guys and everything. That was a real good thing. It was fun. I enjoyed myself and helped the team get a 'W.'"
Mark Sheldon is a reporter for MLB.com. Read his blog, Mark My Word, and follow him on Twitter @m_sheldon. This story was not subject to the approval of Major League Baseball or its clubs.