Bruce hits century mark in RBIs for first time
Bruce hits century mark in RBIs for first time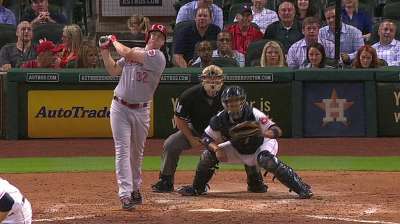 HOUSTON -- Tuesday's fourth-inning grand slam by Reds right fielder Jay Bruce in a 10-0 victory over the Astros was big for multiple reasons. In addition to it being his 30th homer, it gave Bruce exactly 100 RBIs for the first time in his career.
"It means a lot," Bruce said on Wednesday. "It's something I think is kind of a stigma of a run-producer or middle-of-the-lineup guy carries with him. I've had a 97, a 99, and now 100. It obviously speaks a ton about the guys getting on base in front of me -- Joey [Votto] and [Shin-Soo] Choo and Brandon [Phillips] now."
It's no coincidence Choo and Votto are ranked first and second, respectively, in the National League in on-base percentage. Choo is second in runs scored and Votto is third. And now Phillips and Bruce are ranked second and third in the league, respectively, in RBIs. Phillips entered the night with 101 RBIs.
"It all correlates," Bruce said. "It's a mixture of everything -- getting on base, producing and taking advantage of opportunities. Scoring runs wins games. It's a marriage of sorts."
With Bruce and Phillips, Cincinnati has two players with at least 100 RBIs for the first time since Johnny Bench and George Foster in 1977.
"If you don't have 100 RBIs hitting in the fourth or fifth hole on the Reds, you're not going to have them anywhere," Bruce said of his teammates. "Those guys are on base constantly. It's about when you get the opportunity, obviously take advantage of it. I feel I have done a pretty good job of that and I don't plan on being done either."
The grand slam was Bruce's first since Sept. 10, 2008, against the Cubs during his rookie season.
"It's funny. I had a grand slam five years ago. Time flies," Bruce said. "It's crazy to look back where everything started. It's crazy."
Mark Sheldon is a reporter for MLB.com. Read his blog, Mark My Word, and follow him on Twitter @m_sheldon. This story was not subject to the approval of Major League Baseball or its clubs.