Padres bend but don't break in Steel City
Padres bend but don't break in Steel City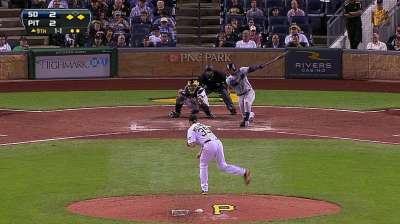 PITTSBURGH -- The Padres rallied in the ninth inning to down the Pirates, 3-2, at PNC Park on Wednesday night.
San Diego got to Pirates closer Mark Melancon for two runs to snatch the victory, their third straight over the NL Central-contending Bucs.
Jedd Gyorko led off the ninth with a single. With two outs, pinch-hitter Chris Denorfia singled, sending pinch-runner Andrew Cashner to third. Pinch-hitter Logan Forsythe singled, sending Cashner home with the tying run. Rene Rivera singled to right, sending in Denorfia and giving the Padres a 3-2 lead.
"In the ninth, we put together some at bats," manager Bud Black said. "Melancon is tough, there is no doubt about it, look at the numbers. He's pitched really, really well and our guys, they looked for a couple pitches out over the plate and didn't try to do too much and served them into right field. We hit them in good spots."
"I know Melancon from way back in Yankees system," Rivera said. "He's always been good. I was looking for something I could put in play, and he left a cutter middle away and I shoot it the other way."
Melancon surrendered four hits and two runs and was tagged with the loss, falling to 2-2 on the season. It was the third blown save for Melancon.
"Gotta tip your hat," Melancon said. "They put the ball in play, found some holes. [My location] wasn't good enough"
Andrew McCutchen smacked a two-run home run in the seventh inning that put the Pirates up, 2-1. With one out, Neil Walker struck out but reached first on a wild pitch. McCutchen then deposited a 3-0 offering from right-hander Tyson Ross into the right-center field stands for his 20th home run of the season.
"It was a 3-0 sinker," Ross said. "I really didn't want to give him anything good to hit and get him to chase something early in the count and he was very patient and laid off a slider that I thought that maybe he might have swung at, but it was a good piece of hitting by him. Swinging 3-0 is always risky and it paid off for him. He squared up and hit it good."
The loss put a crimp in the Pirates' playoff push, leaving them two games behind the National League Central-leading Cardinals, who won in Colorado. The Pirates still cling to the top spot in the National League Wild Card standings.
The Padres continued their dominance at PNC Park, upping their record to 31-10 all-time.
"There is no rhyme or reason," Black said. "If we knew it, we would try to bottle it and take it elsewhere. I wish I could explain it."
"You hate for something like this to happen at this point," McCutchen said. "It hurts a little bit and it does tend to get magnified. But you've got to treat it like any other game. We have a lot more games left."
Ross tossed seven innings and gave up two runs on three hits while notching seven strikeouts. He didn't figure in the decision.
"A great win and Ross pitched great," Black said. "He didn't deserve to lose that game, so it's fitting that he didn't.
"Tyson here in the second half, it's been good fastball velocity," Black said. "He's using his fastball and he's getting it in the strike zone. Previous Tyson early in his career he was a little erratic with the fastball. I think the slider has always been there as a good pitch for him. He has really worked hard getting the fastball in the strike zone, especially early in the count."
Pirates right-harden Charlie Morton had a strong outing, allowing one run on two hits in eight innings. He tied a career high with nine strikeouts and got a no-decision.
"Morton, we were talking during the course of the game, one of the best hard sinkers I've seen all year," Black said. "It was legit and that thing was diving in the low 90s. We couldn't dig it out, the righties kept pounding it into the ground, the lefties off the end of the bat. He had that little breaking-ball swooper that kept us off balance. We didn't hit him hard."
The Padres took a 1-0 lead in the fourth inning. With one out Gyorko drew a walk. Chase Headley singled, putting runners at first and third. Gyorko scored on a fielder's-choice groundout by Tommy Medica.
After Colt Hynes pitched a third of an inning and Dale Thayer pitched two-thirds of an inning, Padres closer Huston Street pitched a scoreless ninth inning to record his 31st save. Thayer got the win, upping his record to 3-5.
"We've been doing it all season," Ross said. "We've got a team full of battlers and that was a great comeback for us."
George Von Benko is a contributor to MLB.com. This story was not subject to the approval of Major League Baseball or its clubs.