Affeldt likely done for season after brief return from DL
Affeldt likely done for season after brief return from DL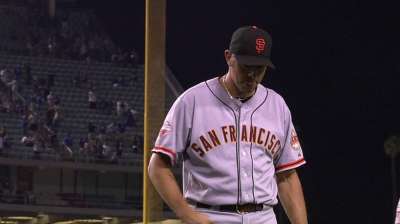 NEW YORK -- Left-hander Jeremy Affeldt's left groin injury has lingered enough to sideline him for possibly the rest of the season, Giants manager Bruce Bochy said Wednesday.
Affeldt, 34, has pitched just once since being activated from the disabled list last Thursday. He worked one-third of an inning that night at Los Angeles, allowed one run and two hits, and received the decision in the Giants' 3-2, 10-inning loss.
"I don't know if he'll pitch again. He has to be 100 percent," Bochy said, noting the soreness Affeldt experienced after facing only three hitters was ominous.
Affeldt's health underscored the larger issue that has marred the Giants' season: the likely negative influence of the World Baseball Classic. Of San Francisco's seven Major Leaguers who played in the Classic, five -- Affeldt, third baseman Pablo Sandoval, center fielder Angel Pagan and right-handers Ryan Vogelsong and Santiago Casilla -- spent time on the disabled list this season. And though second baseman Marco Scutaro avoided going on the DL, he has endured back problems since Spring Training.
Right-hander Sergio Romo was the lone Giant among the team's Classic participants to remain healthy this year.
"I don't know if it was bad luck on our part, but something happened to everybody who participated in the WBC," Bochy said.
Affeldt, who signed a three-year, $18 million contract last offseason, is 1-5 with a 3.74 ERA in 39 appearances. His ERA is more than a run higher than the 2.70 figure he posted last year. His ratio of strikeouts to walks dwindled from 2.48 last year to 1.24 this season, he averaged 5.6 strikeouts per nine innings compared to 8.1 a year ago, and his average of 4.5 walks per nine innings rose from last year's 3.3.
Chris Haft is a reporter for MLB.com. This story was not subject to the approval of Major League Baseball or its clubs.