After rough 2012, Valencia thriving with Orioles
After rough 2012, Valencia thriving with Orioles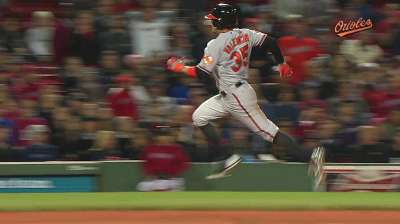 BOSTON -- Danny Valencia's combined OPS during 44 games with the Twins and Red Sox in 2012 was .497. In 40 games with the Orioles this season, it's .988.
"Night and day," Valencia described the two seasons.
Orioles manager Buck Showalter said Wednesday it hasn't been easy writing Valencia's name at designated hitter in the lineup each day, with all the options he has available on the bench, but Valencia has been too good to take out.
A year ago, he sat in the Red Sox dugout during the late parts of the season and hoped something would change. Valencia had been on two losing teams and his performance wasn't helping much.
"I didn't get off to a great start," he said. "I was on two losing teams and the atmospheres on those teams weren't too great. Looking back at it now, I felt I learned. At the time I didn't learn, I was like, 'What am I learning about all this? This stinks.' But I learned how to deal with failure.
"I know that this game has lots of ups and downs, and there are more downs than there are ups. You have to ride the wave and try to be as consistent as possible."
Valencia was due up to lead off the ninth inning of a tie game against the Red Sox on Tuesday night. On the mound was Koji Uehara, who had retired 37 consecutive batters. Last year in this spot, he figures, he had no chance.
But on this team, he feels different. He didn't want to let his teammates down.
Valencia smoked a triple to deep center and the Orioles won, 3-2.
"Last year, I was hoping for things for happen," he said. "This year, I feel like I'm putting myself into position for things to happen, which is nice. There's been a lot of hard work that people don't see that goes on behind closed doors that goes into my success at this point. It's really helped me a lot.
"I think I had a good year. I think I proved I can hit up here. It's just been a good season so far. I'm happy where I'm at."
Jason Mastrodonato is a reporter for MLB.com. Follow him on Twitter @jmastrodonato. This story was not subject to the approval of Major League Baseball or its clubs.