Ventura earns another start against Mariners
Ventura earns another start against Mariners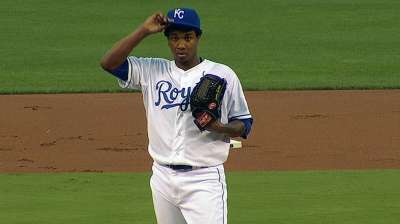 KANSAS CITY - The Royals liked what they saw from rookie right-hander Yordano Ventura on Tuesday night in his Major League debut and decided they want to see more. Ventura will next start against the Mariners on Monday at Safeco Field.
"I am going to work harder for next time, because this is the highest level and they have really good players," Ventura said after the Royals' 5-3 loss to the Indians on Tuesday. "I want to do things well and if you make a mistake with these good hitters, you will pay for it."
Ventura started out a little rough with a four-pitch walk, but he induced a double play and struck out the third batter for a scoreless first inning. He cruised through the next three innings with a fastball that hung around 100 mph before giving up a run.
"I thought he did great," manager Ned Yost said. "After the first hitter, I was like, 'OK, we've got to settle down a little bit,' but boy, once he got in the stretch, he did settle down. Great stuff to get us into the sixth inning with the lead was a darn good job. I thought it was a really good debut for him."
Ventura, the Royals' No. 2 prospect, according to MLB.com, held the Indians to one run on five hits in 5 2/3 innings. He also had three strikeouts and two walks.
Indians center fielder Michael Bourn said Ventura reminded him of Rangers pitcher Neftali Feliz.
"I don't know why, he just looked like him out there to me. Just the way his delivery is, that's how he reminded me of him," Bourn said. "He's good, man. He's got some good stuff. I'm pretty sure he's going to be around for a while for their organization, so we better get used to facing him."
Ventura split between Triple-A Omaha and Double-A Northwest Arkansas this season -- going 8-6 with a 3.14 ERA. He had 155 strikeouts and 53 walks.
Dick Kaegel is a reporter for MLB.com. Kathleen Gier is an associate reporter for MLB.com. This story was not subject to the approval of Major League Baseball or its clubs.