Once again, at a loss against the Padres
Once again, at a loss against the Padres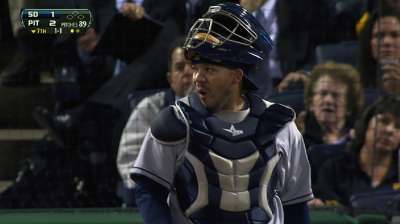 PITTSBURGH -- After another overall silent night at PNC Park, the Pirates had only two questions: How do we dial it back up for the last 10 games of the season? And how do these San Diego Padres ever lose a game?
They certainly do not in PNC Park, where on Wednesday night they staged a two-run rally in the ninth to stun the Bucs, 3-2. The Padres' 14th win in 15 games here, and their 31st in 41 overall games since the yard's 2001 opening, spun the Pirates two games out of the National League Central lead, after St. Louis won in Colorado.
San Diego ambushed closer Mark Melancon to spoil numerous things, tops among them the Pirates' hopes of finding some momentum for the last 10 games of the season.
Also ruined were the drama of Andrew McCutchen's go-ahead two-run homer in the seventh, and possibly the definitive game of Charlie Morton's career.
Asked about the mood in the Pirates dugout following McCutchen's clutch blow, Morton could only describe it as "awesome. It was awesome."
Jedd Gyorko, the local (Morgantown, W.Va.) kid having a memorable series, got things started against Melancon in the ninth with a leadoff single, his first of this game but fifth of the three games. Pinch-hitter Chris Denorfia's two-out single kept things going for another pinch-hitter, Logan Forsythe, who singled to drive in the tying run.
Rene Rivera then punched the go-ahead single into right field, blanketing PNC Park in silence.
All four of the hits that inning were to the opposite -- right -- field by right-handed hitters.
"That was their approach," said Pittsburgh second baseman Neil Walker, who could watch only helplessly as the ball bounced or looped past him. "You don't expect to see four hits like that, or three in a row ... but that's part of baseball."
"In the ninth we put together some at bats," Padres manager Bud Black said. "Melancon is tough, there is no doubt about it, look at the numbers. He's pitched really, really well and our guys, they looked for a couple pitches out over the plate and didn't try to do too much and served them into right field. We hit them in good spots."
Melancon would not hide behind the quality of the hits following his third blown save of the season, the first in five weeks.
Asked whether the Padres kept hitting good pitches, Melancon said, "They weren't good enough."
Gotta tip your hat," Melancon added. "They put the ball in play, found some holes. [My location] wasn't good enough"
McCutchen had stirred the Pirates out of one of their deepest, and definitely worst-timed, snoozes of the season, with his two-run homer into the right-center bleachers.
Given the green light on a 3-0 pitch from right-hander Tyson Ross, McCutchen drilled his 20th homer to take advantage of a rare break -- Walker had reached base when Ross' third-strike pitch to him evaded Rivera for a wild pitch.
"I got a pitch I could handle, and did with it what I'm supposed to do," said McCutchen who, in contrast to his own downcast face, confidently said that the Pirates will bounce back all right.
"You hate for something like this to happen at this point. It hurts a little bit and it does tend to get magnified," he said. "But you've got to treat it like any other game. We have a lot more games left."
The stroke by McCutchen appeared to reward Morton, who held the Padres to two hits for eight innings -- both of them infield singles. He walked three and struck out nine, matching a personal high set on Oct. 2, 2010, against the Marlins.
"One of the best hard sinkers I've seen all year," Black said of Morton's key pitch. "It was legit and that thing was diving in the low 90s. We couldn't dig it out, the righties kept pounding it into the ground, the lefties off the end of the bat. He had that little breaking-ball swooper that kept us off balance. We didn't hit him hard."
And, yes, A.J. Burnett was right. Not about the relatively meager crowds for the first two games of this series -- but about the impact the electric fans can have on the home team.
A crowd of 27,640 turned out Wednesday night -- about 6,000 more than the Monday-Tuesday average -- and made its presence felt as the bottom of the seventh began, getting loud and boisterous and encouraging while the Bucs were still losing, 1-0, to Ross' one-hitter.
Having McCutchen essentially answer those fans' prayers graced the evening with a magical feeling, a sense only reinforced when McCutchen hopped out of the dugout to heed the crowd's curtain call.
Remarkably, until McCutchen's homer, Ross had the Padres in position to do twice in three days here something they had never before done in their entire history: face the minimum 27 batters while throwing a one-hitter.
The enabler Wednesday night was Marlon Byrd, who followed Justin Morneau's leadoff single in the second by hitting into a double play. The Bucs' only other baserunner to that point,, McCutchen, by getting hit with a pitch in the first, was caught attempting to steal.
The Padres had runners at the corners with one out in the fourth when Pedro Alvarez made a debatable decision on Tommy Medica's grounder to him. He threw to second, aiming to start an inning-ending double play -- normally, the proper gambit.
However, the ball to him was hit slowly enough to hinder chances of turning two, while Gyorko had just started for home when Alvarez gloved the grounder. Given the Pirates' recent lack of scoring, getting a surer out at home seemed advisable -- and when the Bucs indeed did not turn the twin-killing, Gyorko crossed the plate.
"If he gets a better grip on that ball, he turns the double plays," said Hurdle, nodding that Alvarez's choice had been the proper one.
Tom Singer is a reporter for MLB.com and writes an MLBlog Change for a Nickel. He can also be found on Twitter @Tom_Singer. This story was not subject to the approval of Major League Baseball or its clubs.