Indians still looking up at Wild Card leaders
Indians still looking up at Wild Card leaders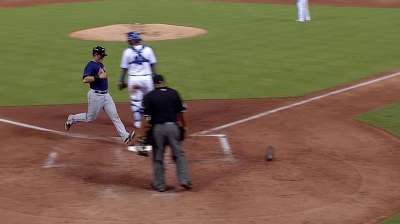 KANSAS CITY -- An out was right in front of Indians catcher Yan Gomes in the fifth inning on Wednesday night, but he slipped, fell to the dirt and it cost him. It was a play that served as a fitting summation of this series at Kauffman Stadium.
The Tribe had a chance to seize control of one of the American League's two Wild Card spots during this crucial three-game set and came up short.
After Wednesday night's 7-2 loss to the Royals, who claimed two out of three in their final regular-season meeting with the Indians, Cleveland heads home for its last homestand a half-game behind Texas for the second Wild Card spot.
"We had chances," manager Terry Francona said. "We just didn't make enough plays. We had some plays that we probably need to make in a game like that, and we didn't do it."
Tampa Bay holds the top Wild Card berth, while the Orioles, Yankees and Royals -- each with a win on Wednesday -- are all in shouting distance behind the Indians, too.
The Tribe has the benefit of a favorable schedule over its final 10 games, considering the final opponents -- the Astros, White Sox and Twins -- have combined for 278 losses this year. The Indians (82-70) have feasted on clubs with losing records, but they are not taking anything for granted given what is at stake.
"We can't take any teams lightly," Gomes said. "We've got to be able to come out and play a good series against Houston. Then, we've got Chicago again. We need to finish the year good so we have a chance to play in the postseason."
In the last game of a 5-2 road trip, Cleveland simply could not solve Kansas City lefty Bruce Chen, and did not fare much better by the time the Royals (80-72) turned to their stellar bullpen. The only offensive damage done against Chen came in the form of a double from Michael Brantley and an error that led to a run, plus a sacrifice fly from Michael Bourn in the third inning.
The Indians threatened again in the sixth, when Bourn led off with a single and Nick Swisher followed with a walk, but the Royals halted the rally after pulling Chen from the contest. Thanks to the escape act by the relief corps, Chen was only charged with two runs in his five innings, giving him a 1.04 ERA in 17 1/3 innings against the Tribe this season.
"He does what he does, man," Francona said of Chen. "He goes up, down, in, out. Nothing's the same speed. Different arm angles. He kind of gives you fits. He just really knows how to pitch. He kind of takes the sting out of your bat."
Rookie starter Danny Salazar turned in an admirable six-inning outing for the Indians, but the Royals got to him early and it proved to be sufficient. Just to be sure, though, Kansas City capitalized on a missed-catch error by right fielder Ryan Raburn with a three-run outpouring in the eighth inning to put the game away.
With two outs in the first inning, Eric Hosmer came through with a single to right field and Salazar followed with a walk to Billy Butler. Salvador Perez made the young pitcher pay by ripping a pitch into left field for two-run double to put Kansas City on the board. The Royals grabbed a 3-0 lead when Gomes could not corral a pitch from Salazar, resulting in a wild pitch that allowed Perez to score from third base.
"I think I tried to do a little bit too much," said Salazar, who ended with three strikeouts, one walk and six hits allowed. "I was using my fastball the first inning. Then, after that, I started just mixing my pitches."
Salazar settled down, minimizing his mistakes and working efficiently, but ran into trouble again in the fifth inning.
Alcides Escobar and Alex Gordon came through with consecutive one-out singles, putting runners on the corners to set up an improbable double steal that led to Kansas City's fourth run. With Emilio Bonifacio at the plate, Gordon broke for second base. Gomes received the pitch from Salazar and jumped out of his crouch, but the catcher hesitated before throwing to second.
Gordon was caught in a rundown and Escobar crept down the third-base line as the play unfolded. First baseman Swisher relayed the ball to third baseman Mike Aviles, who then snapped it to Gomes in an effort to nab Escobar. That is when the catcher made a critical mistake.
"I kind of peeked to see if Gordon was going to third base," Gomes said.
At that exact moment, Escobar dropped to ground as Gomes swung and missed with a tag attempt.
"Esky, wow. What a move," Gordon marveled. "That wasn't what was supposed to happen."
As Gomes fell, Escobar scrambled to his feet and swiftly dove head-first across the plate as the Kauffman Stadium crowd erupted.
"It was a pretty disappointing play on my part," Gomes said. "It kind of turned out to be a pretty [big] momentum play for them, so it was kind of tough to swallow."
Jordan Bastian is a reporter for MLB.com. Read his blog, Major League Bastian, and follow him on Twitter @MLBastian. This story was not subject to the approval of Major League Baseball or its clubs.