Simmons gets chance to rest neck tightness
Simmons gets chance to rest neck tightness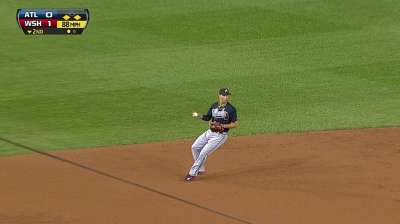 WASHINGTON -- Braves manager Fredi Gonzalez opted to rest Andrelton Simmons for Wednesday's series finale against the Nationals. Simmons woke up with a stiff neck on Tuesday morning and then spent the remainder of the day playing the entirety of a doubleheader.
"He's got a little tightness on his neck," Gonzalez said. "I don't want to get it any tighter today. He could probably play today. But I don't want him to continue fighting that stuff."
Simmons uncharacteristically made a critical error that concluded the three-run ninth inning the Nationals needed to beat Craig Kimbrel and the Braves in Tuesday's first game. Gonzalez said he does not believe Simmons' neck influenced the fact that he was unable to glove Denard Span's game-ending grounder that rolled between his legs.
"We're so used to him making these plays and then all of the sudden he doesn't make a play and we think what is the matter with him?" Gonzalez said.
Simmons was available to play if necessary on Wednesday, and he should return to the lineup for Friday afternoon's series opener against the Cubs.
Mark Bowman is a reporter for MLB.com. This story was not subject to the approval of Major League Baseball or its clubs.