Mistakes add up in 13-inning loss to Reds
Mistakes add up in 13-inning loss to Reds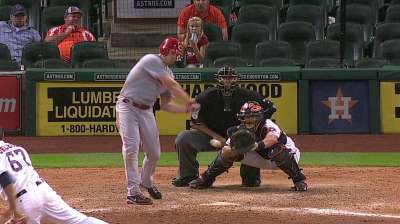 HOUSTON -- Getaway days are never fun. Getaway nights can be even worse. Heading to the airport for a flight to Cleveland after playing a five-hour, 18-minute, 13-inning game against Cincinnati is about as bad as it gets.
The Astros had to endure this Wednesday night after a 6-5 loss at Minute Maid Park.
"It's just a long travel night," Houston first baseman-outfielder Chris Carter said "I don't think anybody can be thinking about the plane ride after this game. We'll probably get in 5 or 6 in the morning and play a game tomorrow [night]."
Houston catcher Carlos Corporan hit a sacrifice fly in the fourth inning and an RBI double in the sixth.
"It's tough," Corporan said of the loss. "You're trying to concentrate and keep grinding til the end. We're going to keep playing hard, like we did tonight."
No one can accuse the Astros of lying down against the Reds, who are fighting to lock up a postseason berth.
"That was the key," Corporan said. "They're playing for a playoff. This is our playoff. We're young and we're hungry. We fell behind, then tied it up. We kept fighting. We gave it everything we could. Somebody has to win."
"We played a good game," Carter added. "Both teams had chances to win the game early. You keep going on and on."
The Astros pretty much beat themselves by giving the Reds 11 walks. Of Cincinnati's six runs, four of the runners reached base on walks and a fifth on an error. Both Reds runs that scored in the 13th walked to open the inning.
"Some were intentional or unintentional," Astros manager Bo Porter said of the walks. "The more people you put on base, the greater the probability they have of scoring, especially a team that hits as well as this one."
Jay Bruce, who hit a grand slam Tuesday night, doubled in the winning runs in the 13th Wednesday night with his third double of the game, this one off loser Jorge De Leon (0-1).
Porter intentionally walked Joey Votto just ahead of Bruce.
"He hurt us pretty much all three games," Porter said of Bruce. "You don't want to pitch to Joey Votto with second and third and the infield in. You pick your poison there."
The Astros didn't help themselves, offensively, either when they blew a great chance to score in the 11th.
Brandon Barnes opened the inning with a single and was sacrificed to second. The Reds intentionally walked Jose Altuve. With one out Trevor Crowe followed with a sharp single to left. Third-base coach Dave Trembley held up Barnes at third, but Altuve never stopped running and got trapped between second and third, eventually tagged for the second out of the inning. Marc Krauss struck out to end the scoring chance.
"That's baserunning 101," Porter said of Altuve's gaffe. "You've got the winning run in front of you. You just stop at the next base. It's that simple. I can't qualify it any other way. When you get to the next base, you stand on it."
Brad Peacock started for the Astros and pitched 5 2/3 innings, allowing six hits and three earned runs.
"I was still rusty in the first inning," Peacock said of giving up two early runs. " I finished strong and kept the guys in it. It was a great game. We played all the way to the end."
Carter, pinch-hitter L.J. Hoes and Corporan whacked back-to-back-back doubles in the sixth to tie the game at 4.
Corporan hit his 430 feet to dead center, landing on Tal's Hill.
"That's all I got," Corporan said, joking. "I was hoping it was a little more toward the alley. That's a long way. At least I tied up the game. I wish I hit a homer there."
The Astros weren't done even after Cincinnati scored twice in the top of the 13th. Crowe's groundout scored Jonathan Villar to cut the Reds' lead to one.
"We score one more against [closer Aroldis] Chapman we tie it again," Corporan said. "We had the tying run at second."
The Astros won't get much rest Wednesday night.
"Seven o'clock tomorrow, it will be time to play," Porter said.
It will be easier on the Reds, who are off Thursday before beginning a three-game series Friday at Pittsburgh.
"It doesn't matter, as long as you win," Reds manager Dusty Baker said of the long game. "If you're going to be out there for that long, you might as well win. That was some game."
Gene Duffey is a contributor to MLB.com. This story was not subject to the approval of Major League Baseball or its clubs.