Mariners deal with anticipated mistakes by rookies
Mariners deal with anticipated mistakes by rookies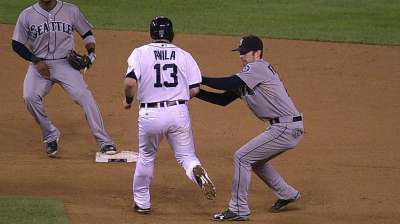 DETROIT -- Defensive lapses by rookies have caused problems for the Mariners in a couple recent games, but manager Eric Wedge cautioned Wednesday that such is the fate when playing so many young players against veteran clubs such as the Cardinals and Tigers in pennant-race situations.
Nick Franklin had a situation Tuesday where he didn't get after a ball that had rolled behind third base in a rundown, allowing the runner from first to move into scoring position. And center fielder Abraham Almonte rushed a throw home on a shallow fly ball that turned into an easy sacrifice fly in the Tigers' 6-2 win.
Wedge said both youngsters will learn from their mistakes, with Franklin needing to keep his head up and not assume anything and Almonte needing to get his feet set and more under control instead of rushing.
"We have eight or nine players who made their Major League debut this year. That's quite a bit," Wedge said. "And 30 in three years. When you're breaking in that many young players, you're going to have young mistakes. It's part of it. We don't have the veterans playing that we thought would be playing coming out of Spring Training. So you either go out and get somebody or you bring your young players up. That's what you do and it's just a process of that.
"We have 20-some players here that have less than three years coming into this year. That's a big number. So you have to be patient and work through it. It's a rebuild. That's what it was when I got here, and you have to continue to work these guys in."
The Mariners started five rookies in Tuesday's game against a Tigers club loaded with veterans and contending again for the American League Central title. Wedge acknowledged it's challenging to still be going through that youth process after three seasons.
"It is tough. When you sign up for a rebuild, like I did, you know you're going to have some tough days, because you're not going to see the wins like you'd like to see right away," Wedge said. "But if you going to do it the right way, you're going to stick with it. If you don't, they pull the cord on it and start all over. How's that worked out for them? You have to stick with something at some point in time. And these young kids, we've got some kids who can play. They're just not the players they're going to be yet. It takes some time."
Greg Johns is a reporter for MLB.com. Follow him on Twitter @GregJohnsMLB as well as his Mariners Musings blog. This story was not subject to the approval of Major League Baseball or its clubs.