Harvey apologizes for interview on Dan Patrick Show
Harvey apologizes for interview on Dan Patrick Show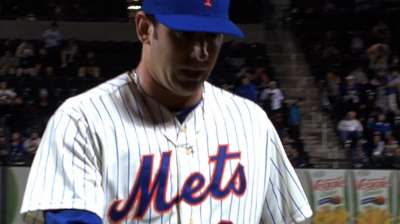 NEW YORK -- Described as "awkward" and "embarrassing" by national online media publications, Matt Harvey's phone interview Wednesday morning with the Dan Patrick Show, in which the Mets pitcher refused to talk about the possibility of Tommy John surgery, quickly became infamous enough for him to issue a Twitter apology.
"I've had a few rough outings on the mound, that was a rough outing on the radio this morning," Harvey tweeted. "Been an exhausting couple of days. Apologies to @dpshow and @Qualcomm."
The interview in question began harmlessly enough, with Patrick asking Harvey general questions about the torn ulnar collateral ligament in his right elbow. In one answer, Harvey slipped in a reference to the telecommunications company Qualcomm, saying he wanted to "help them out as much as possible."
Patrick followed up with a question about whether the prospect of Tommy John surgery scared Harvey.
"I did all those answers yesterday, and maybe at the appropriate time we can talk a little bit more about that," Harvey replied, referring to his press conference at Citi Field. "Obviously today is about Qualcomm."
"You don't want to talk about this whole rehab and Tommy John?" Patrick asked.
"Well, I will," Harvey said. "We can set up another call if you'd like to about that subject. But today we're honoring and supporting Qualcomm."
Video of the interview caught fire across the internet, prompting Harvey to apologize several hours later.
Anthony DiComo is a reporter for MLB.com. Follow him on Twitter @AnthonyDicomo. This story was not subject to the approval of Major League Baseball or its clubs.