Veteran Ibanez makes adjustments to approach
Veteran Ibanez makes adjustments to approach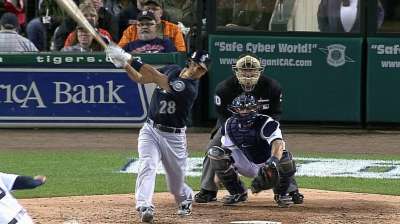 DETROIT -- Even after 18 years and 2,063 Major League games, Raul Ibanez is still learning. Still adjusting. Still figuring out what works and what doesn't when facing big league pitchers.
And lately, after a second-half slump that saw his torrid power streak curtailed, the 41-year-old outfielder has gotten back to doing something relatively simple at the plate that has helped him regain some of that earlier success.
"I've made a couple adjustments and am trying not to do too much," Ibanez said after hitting his 28th home run in Seattle's 6-2 loss to the Tigers on Tuesday. "Not swing so hard. Swing easier. And it's worked out a little better of late."
Many baseball veterans will talk about "trying easier" when they realize they've been overswinging or just pushing too hard to get themselves out of a rut. There's a temptation to swing as hard as possible when facing a Major League fastball, even for a guy who has been around as long as Ibanez.
"I fight that a lot," Ibanez said. "I think we all fight it as hitters, trying to not overswing. Just thinking more singles and line drives."
Ibanez hit 24 home runs with 56 RBIs in 73 games prior to the All-Star break, but Tuesday's shot was just his fourth homer and seventh RBI in 44 games since. He talked before Tuesday's game about not thinking about home runs, but just "filling the park with singles and line drives."
Then he went out and connected with a line drive that sailed over the right-field fence at Comerica Park off Anibal Sanchez, just the ninth homer the right-hander has given up in 27 starts this year.
Greg Johns is a reporter for MLB.com. Follow him on Twitter @GregJohnsMLB as well as his Mariners Musings blog. This story was not subject to the approval of Major League Baseball or its clubs.