With offensive support, Iwakuma shuts down Tigers
With offensive support, Iwakuma shuts down Tigers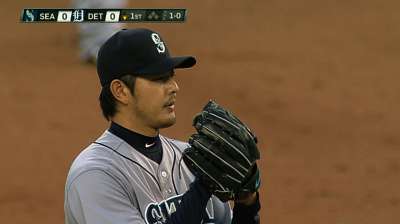 DETROIT -- Hisashi Iwakuma has been one of the premier pitchers in the American League this season, and the Mariners' right-hander enhanced that reputation by outdueling Tigers ace Justin Verlander in an 8-0 victory Wednesday night at Comerica Park.
Iwakuma shut out the AL Central-leading Tigers for eight innings on four hits, improving his record to 13-6 with a 2.76 ERA as Seattle won for just the second time in its past 10 games.
"I had everything working today and was able to command all my pitches and concentrate until the end," Iwakuma said through translator Antony Suzuki. "So yes, I would say this was probably my best game of the season."
Franklin Gutierrez led the way offensively with a 3-for-5 night with a home run and a double, while Justin Smoak was 2-for-3 with a home run and two RBIs and Michael Saunders had a pair of RBI doubles. But the night belonged to Iwakuma, as he dropped Detroit to 88-64.
Iwakuma had four straight no-decisions coming into the game, but he has now gone 3-0 with a 1.89 ERA over his last seven starts and hasn't lost since Aug. 10 against the Brewers. He's thrown 25 straight scoreless innings over his past four road starts, tying the franchise record set by Brian Holman (1989) and Randy Johnson ('94).
The 32-year-old came into the game ranked second in the AL in WHIP, fourth in innings, ERA and opponents' batting average and fifth in strikeout-to-walk ratio, and he did nothing to hurt those numbers against a Tigers team that is second in the Majors in scoring.
The 6-foot-3 right-hander allowed seven baserunners in the eight innings. Of the four hits he gave up, two came on infield singles. He issued two walks, but one was intentional. The other baserunner reached on an error on Kyle Seager.
The Tigers loaded the bases on Iwakuma in the first, but he wiggled out of that predicament by striking out Matt Tuiasosopo. Iwakuma did it again in the fourth with a bases-loaded, double-play grounder by second baseman Hernan Perez.
"That's what good pitchers do," said Tigers manager Jim Leyland. "They don't let you capitalize. That's why he's one of the best.
"He doesn't panic. He knows how to pitch. He's really a terrific pitcher. He keeps the game going. He doesn't fool around; he's a strike-thrower with every one of his pitches. I mean, he's impressive. That's why he was picked on the American League All-Star team. Pretty simple: he's good."
Iwakuma didn't allow a baserunner in any other frame until a single in the eighth, and he increased his career-high innings total to 211 2/3 with one start remaining next week at home against the Royals.
"He's not an overpowering guy," said Tigers catcher Alex Avila. "But he's got a ton of movement and probably one of the best split-fingers in the game. It's tough to pick up. He does a good job of mixing it up, changing speeds and locating it. It almost seems like he's always on the edges of the plate and he's just a tough guy to square up."
Verlander went seven innings for the Tigers, allowing three runs on four hits with three walks and six strikeouts while throwing 124 pitches. The 2011 AL Cy Young Award winner dropped to 13-12 with a 3.66 ERA.
The Mariners added five runs in the final two innings against the Tigers bullpen, with the eight runs their most since a 9-7 win over Toronto on Aug. 7.
"I know we catch a lot of hell for our offense with all of our young kids and I understand that," said Wedge. "But one thing our kids have been doing on this road trip, against two of the best teams in baseball, they've been making some of the best starting pitchers in the game work hard.
"Today we reaped the benefits of that by making Verlander work. Even though he went deep in the ballgame, he still had 97 pitches after five innings so that's work load and that counts and means something. I like the fact we've really been making these guys work."
The Mariners jumped on Verlander for two runs in the second, with Smoak scoring from first on Saunders' double into the left-center gap and Nick Franklin following with an RBI single to left.
Smoak powered an opposite-field home run in the sixth for a 3-0 lead. It was Smoak's 17th homer, all of those coming while batting left-handed. Smoak has hit six home runs and has 18 RBIs in 11 career games at Comerica Park.
"I don't know. It's just a matter of everything coming together here, I guess," Smoak said. "It's a great park to hit in and this was a good win for us tonight."
Verlander said the 2-1 fastball Smoak hit was right where he wanted to throw it on the outside of the plate.
"Smoak hit a really, really good pitch," said Verlander. "I couldn't have thrown a better pitch at that point, for what I was trying to do. I was trying to get him to put it in play, and get him to put it play early. He just elevated it and he has a lot of power, so it got out."
Seattle pushed across four runs off reliever Phil Coke in the eighth, with Smoak and Saunders again delivering RBI hits before two runs scored on a bases-loaded wild pitch and fielding error on pitcher Al Alburquerque on Avila's throw home to make it 7-0. Gutierrez's ninth-inning home run extended the lead to 8-0.
Greg Johns is a reporter for MLB.com. Follow him on Twitter @GregJohnsMLB as well as his Mariners Musings blog. This story was not subject to the approval of Major League Baseball or its clubs.