No help for Verlander, but Tigers close in on playoffs
No help for Verlander, but Tigers close in on playoffs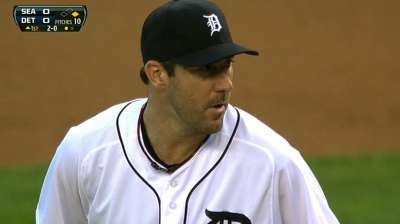 DETROIT -- The 98-mph fastball on Justin Verlander's 123rd pitch of Wednesday night looked familiar, as did the curveball that dropped over the plate for a called third strike to end his seventh and final inning. The end results continue to fluster.
After snapping his six-game winless streak last time out, Verlander's winning ways didn't last long. The Tigers' 8-0 loss to the Mariners, however, wasn't much on him. He was outpitched by Hisashi Iwakuma, no question, but he wasn't outmatched.
"He didn't give up many hits," manager Jim Leyland said. "He gave us a chance to win. We just didn't do much with their pitcher."
They scored none. Despite Verlander's high run support total for the season, that has happened a few times.
Thanks to Cleveland's loss in Kansas City Wednesday night, the Tigers still crept closer to a third consecutive division title. Their lead in the American League Central remains at six games, now with 10 games left to play. Their magic number to clinch is down to five.
The impact of the loss on the playoff race was negligible. What the outing means for Verlander's mission to get his pitching in order for postseason play is a little less definitive.
"I think the stuff has been getting better just about every time out," Verlander said. "How I'm going to be in the postseason, we'll see. You never want to say anything is clinched or anything until it is."
Verlander can expect more tough matchups like these in October, no matter how the Tigers order their postseason rotation. With the high caliber of postseason pitching looming, whether it's from Oakland or elsewhere, it's difficult to expect an abundance of run support. But he'll have to keep it close. And the Tigers, regardless of who's pitching, will have to convert chances.
Until four add-on runs in the eighth off Phil Coke, the loss was looking similar to the 2-0 shutout defeat Verlander took when he opposed Iwakuma on April 18 in Seattle. By game's end, that duel was difficult to recognize.
The Tigers were blanked for the 11th time this season and the fourth in a Verlander start. It's hard to draw pity when the Tigers have also scored nine or more runs in five of his other starts, but it's hard to center the blame on Verlander, either.
He wasn't dominant, especially early on his way to three-ball counts to five of Seattle's first 12 hitters. He overcame a leadoff walk in the opening inning, but he paid for one in the second with back-to-back RBI hits into the gap in left-center field. Michael Saunders doubled home Justin Smoak and scored on Nick Franklin's single.
"I wasn't able to execute fastball to my glove side," Verlander said. "I tried to go in on both those guys and left it middle, middle away, and that played in obviously to what they were trying to do at that point, because they both drove the ball to the left side. If I get that ball in, it might be a totally different situation."
An infield single and a one-out walk in the third inning had Verlander (13-12) looking for outs to keep it close, not just the game but his pitch count. He found it with the curveball that has been almost as frustrating for him to nail down as the fastball.
Verlander retired 14 of the final 15 batters he faced. Smoak's 17th home run, a drive to right off the fastball, was the exception. Four of Verlander's six strikeouts came on curveballs, three of them called. He didn't overpower the M's much except for the fastball late, but he found a mix with which he was comfortable.
He threw a curveball on the corner to Franklin that froze him for a strikeout leading off the seventh. It was the kind of curveball he was spotting while ahead in the count when he's been on the last couple years.
"That felt really, really good," Verlander said. "That's what I was so good at was throwing that backdoor curveball with regularity and having it be right on the corner and hard for guys to foul it off or anything."
Verlander threw 22 curveballs in the game. Seventeen of them went for strikes, according to data from MLB.com Gameday and brooksbaseball.net, despite just two swings and misses.
In the end, it only mattered on his pitching line. With the way Iwakuma attacked a Tigers lineup he shut out for six innings in April, two bases-loaded chances in the first four innings were their only shots to get runs.
The first came in the second inning when Franklin mishandled a Don Kelly infield single, followed by a two-out double from Prince Fielder. Iwakuma (13-6) intentionally walked Victor Martinez to face Matt Tuiasosopo, who got the start over Andy Dirks in left because right-handed hitters have fared better against the pitcher. Iwakuma sent down Tuiaosopo swinging at a slider, as he did to a few other right-handed hitters on the night.
Another infield single, this one from Martinez, started a fourth-inning rally that reloaded the bases once Tuiasosopo walked and Kyle Seager booted an Alex Avila grounder to third. Iwakuma used a splitter to get an inning-ending double play from rookie second baseman Hernan Perez.
Iwakuma retired 11 in a row from there, extending his streak to 25 consecutive scoreless innings on the road. After the game, he said through a translator that it was "probably my best game of the season."
Said Avila: "It definitely was a little frustrating. He was very good today. He didn't throw any mistakes and he was just lights-out. We've had trouble with him in the past, and he's just a good pitcher. He doesn't have a [2.76] ERA for no reason."
Jason Beck is a reporter for MLB.com. Read Beck's Blog and follow him on Twitter @beckjason. This story was not subject to the approval of Major League Baseball or its clubs.