Despite loss, playoff magic number down to one
Despite loss, playoff magic number down to one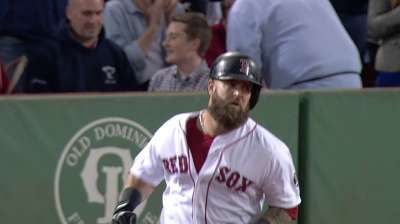 BOSTON -- For most of the season, and in particular in their recently red-hot stretch, the Red Sox have come up with the big hit when they've needed it most.
But for the second night in a row, the Orioles' pitching staff prevented that from happening and the Red Sox suffered a 5-3 loss in 12 innings on Wednesday night at Fenway Park.
"We did have opportunities," said right fielder Daniel Nava. "Most of the season we've come through. Tonight we didn't get it done."
Chris Davis is usually a menace with the long ball, but in this one, he beat the Red Sox by punching a two-run single up the middle against Franklin Morales to snap a 3-3 tie.
The Red Sox would have clinched a postseason berth with a victory, but they can do so simply by beating the Orioles on Thursday night. A Cleveland loss to the Astros would also do the trick.
However, the main goal for manager John Farrell's team is to win the American League East, something it is well-positioned to do with nine games left and an eight-game lead. The magic number for clinching the division is three, so the earliest the Sox can achieve that is Friday.
"Nothing comes easy in Major League Baseball, much less the AL East, but we're going to grind it out and we're going to get it done," said Red Sox starter Jake Peavy.
It was a big win for the Orioles, who trail by just one in the Wild Card standings.
Peavy turned in a solid start for the Red Sox, allowing six hits and three runs over seven innings. He walked one and struck out eight. It was his second start since lowering his arm angle.
"I felt encouraged once again," said Peavy. "I felt like my stuff is getting better. I got a little jumpy out of the stretch and gave up some hits and they got back in the ballgame, unfortunately. This is a tough one. We grinded it out. We played hard. Just couldn't get that big hit vs. [Wei-Yin] Chen and break it open. I've got to do a better job of holding that lead."
J.J. Hardy opened the winning rally for the Orioles with a one-out single up the middle. Brian Roberts followed by doing the same. A wild pitch by Morales pushed runners to second and third. After intentionally walking Steve Pearce to load the bases, Morales got Manny Machado to flyout to Mike Napoli. With the count 1-2, Davis punched Morales' 76-mph curveball into center field.
"He gets Davis out on his front foot, but still, he was powerful, he was strong, he was throwing strikes," said Farrell. "They had a number of hits where they found a hole."
That's what the Red Sox have done most of the year. But in this one, they consistently hit the ball right at people, hitting into four double plays, going 1-for-7 with runners in scoring position and leaving nine on base.
"We gave ourselves plenty of opportunities -- men in scoring position, they would make a key pitch," said Farrell. "We grounded into four double plays. A lot of good things went on in this game. I thought, overall, offensively, we put a number of guys on base, but they made a key pitch in a key moment, and ground-ball double plays speak to that."
David Ortiz gave the Red Sox a quick lead when he hit a towering home run to right field in the bottom of the first, his 28th of the season.
Peavy was dominant early, holding the O's hitless through the first four innings. However, Baltimore had a breakthrough in the fifth. Danny Valencia led off with a single. Matt Wieters followed with an RBI double that Shane Victorino pursued until he ran out of room at the wall. With one out, Roberts smashed an RBI double into the gap in left-center to tie the game at 2.
The O's took their first lead in the sixth when Wieters again did some damage, this time with a ground-rule double to right.
But it didn't last long. The red-hot Napoli led off the bottom of the sixth by hitting a shot into the bleachers in center to tie the game.
For the rest of the contest, Baltimore's pitching was lights-out.
And Davis, who has carried the Birds all season, led his team to a big win.
"He buckled me with a breaking ball and I was somehow able to get the barrel to it and get it through the infield," Davis said.
Ian Browne is a reporter for MLB.com. Read his blog, Brownie Points, and follow him on Twitter @IanMBrowne. This story was not subject to the approval of Major League Baseball or its clubs.