Utley stays hot, but Phillies can't complete sweep
Utley stays hot, but Phillies can't complete sweep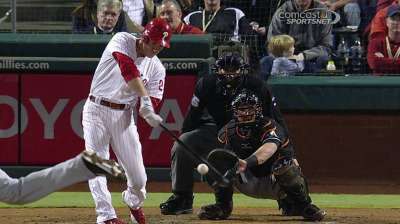 PHILADELPHIA -- Ryne Sandberg keeps getting asked questions about next season, even though he remains interim manager.
Just this week, he got asked what his lineup will be if everybody is healthy next season.
He said he did not know, although that might change once he has "interim" removed from his job title. But following Wednesday's 4-3 loss in 10 innings to the Marlins at Citizens Bank Park, it seems safe to say Chase Utley will be hitting no lower than third.
"Solid year," Sandberg said. "He's swinging a real good bat. He's showing his power. He's showing his leadership. He's played a lot this year. All of that is good for him. He's a mainstay out there. He's a steady force. He's a big piece for next year, and he's shown the type of player he is. I expect no less next year."
But Utley's two-run single wasn't enough to complete the sweep, as the Marlins' Ed Lucas hit a go-ahead home run in the 10th inning.
Utley, 34, went 1-for-5 with a two-run single, and he has two home runs and 14 RBIs in his last seven games, giving the Phillies a little more comfort entering the offseason, knowing at least one of their long-time veteran infielders has a pretty good chance of putting up decent numbers in 2014.
Time will tell on Jimmy Rollins, who is having the worst offensive season of his career, and Ryan Howard, who is recovering from left knee surgery in Florida.
But Utley's play this season has been encouraging. He is hitting .279 with 24 doubles, six triples, 18 home runs and 68 RBIs in 122 games. His .827 OPS ranks third among 18 qualifying second basemen.
Only Robinson Cano (.897) and Matt Carpenter (.881) have been better.
"You always want to do well, but it's nice to be on the field the majority of the time," said Utley, who missed big chunks of the previous two seasons because of knee injuries. "Obviously, the last couple years were frustrating. But I think I've definitely put that behind me, and hopefully I'll continue to improve."
Utley's play is especially encouraging considering the Phillies gave him a two-year, $27 million contract extension in August that can reach $75 million over five seasons.
Maybe after two injury plagued seasons Utley can have a renaissance.
The Phillies will need much more than Utley to win next season. They certainly will need an improved bullpen.
The Phillies had an opportunity to see many of their young relievers pitch on Wednesday because they scratched starting pitcher Kyle Kendrick because of a shoulder issue.
Zach Miner pitched three scoreless innings to open the game. Luis Garcia, Ethan Martin, Justin De Fratus, B.J. Rosenberg and Jake Diekman followed. Cesar Jimenez started the 10th and allowed a solo home run to Lucas to give the Marlins the lead.
De Fratus, Rosenberg and Diekman have made a good impression over the past few weeks. They threw three scoreless innings. Martin, whose future seems to be in the bullpen, allowed a mammoth two-run homer to Giancarlo Stanton in the sixth.
"We all want to go up there and throw up zeros and then that happens," Martin said. "Frustrating."
Marlins shortstop Adeiny Hechavarria made a couple of spectacular plays to rob the Phillies of hits. He leapt high in the air to steal a hit from Cody Asche in the sixth, and made a ridiculous backhanded play to rob Roger Bernadina in the eighth.
If the ball had reached the outfield, it would have scored a run.
"That was a tough one," Bernadina said. "You think it's going to turn out good, but he made a great play out of it."
Other than the result on Wednesday, the Phillies have shown improvement the past few weeks. They are 18-14 under Sandberg, which has Utley optimistic.
"I think when Charlie [Manuel] was let go, it woke some guys up," he said. "We obviously didn't play very good baseball the first half of the year, but I still feel like we have some good players. Now is an opportunity for some guys to get some at-bats, get some reps at the Major League level and they're doing a good job. Obviously we didn't start strong, but we can finish strong."
Todd Zolecki is a reporter for MLB.com. This story was not subject to the approval of Major League Baseball or its clubs.