Lucas' 10th-inning homer helps end four-game slide
Lucas' 10th-inning homer helps end four-game slide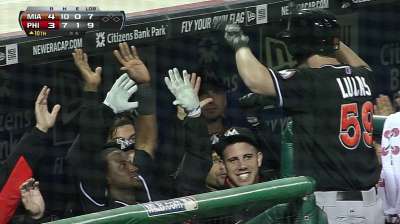 PHILADELPHIA -- Ed Lucas admitted that after he committed an error to lead off the bottom of the 10th inning, thoughts of a tough season ran through his head.
"I thought, 'Oh no, here we go again,'" Lucas said.
On Wednesday, Lucas got the big hit the Marlins have been looking for all year, as he rocked his fourth home run, a solo shot in the 10th inning, leading the Marlins to a 4-3 win over the Phillies at Citizens Bank Park.
Lucas drove a 2-2 slider from reliever Cesar Jimenez to give the Marlins the lead for good, and Brad Hand picked up his second career win to salvage the finale of a three-game series. Lucas' error made the end of the game more tense than it needed to be for a team looking to finish the year on a positive note.
Carlos Ruiz hit a big hop to Lucas at third, which he dropped for an error, and closer Steve Cishek surrendered a double to Domonic Brown to put runners at second and third with no one out.
"It's a play I should have made," Lucas said. "Once that happens, you think 'This is not going to happen,' The fact is, we have complete trust in our closer. He's riding a streak, too, right? I'm not going to lie to you, that crossed my mind."
Cishak entered the game having successfully converted his last 25 save opportunities, but he had only three chances since Aug. 19. He coaxed a pop out to right by Darin Ruf, and then he intentionally walked Cody Asche to load the bases with one out for Roger Bernadina.
Cishak showed why he's one of the games top up-and-coming closers by striking out Bernadina and getting a fielder's choice ground out from pinch-hitter Freddy Galvis to end the game.
"I haven't been in a situation like that in awhile," said Cishak, whose last blown save came on June 4 at Citizens Bank Park when he surrendered a home run to John Mayberry in a 7-3, 11-inning loss. "Last year, I got myself in that jam a lot. I knew after those two got on I was facing a righty. If I get him out, we walk the lefty and I just needed to stay calm and go after him like the first two hitters."
Down 3-1, the Marlins opened the sixth against the third Phillies pitcher of the night, Ethan Martin. Martin, who started seven games for the Phillies this year before moving to the bullpen, gave up a leadoff single to Christian Yelich. Giancarlo Stanton followed with a titanic home run onto Ashburn Alley, well over the 387-foot sign in left-center. The ball was hit so far that it took two bounces before a patron at a concession stand turned around, fielded it, turned back around to get his hoagie and then walked off with a souvenir and dinner. It was Stanton's 23rd home run of the season.
Starter Nathan Eovaldi opened the night with four strong innings, as he held the Phillies scoreless even though he allowed a runner to reach base in each inning. The Phillies managed two hits, one walk and one hit batter through the fourth on a manageable 62 pitches from Eovaldi.
But the fifth inning got away from the 23-year-old righty, as the Phillies took the lead on two hits and two walks, with most of the damage coming with two outs.
With one out, Bernadina walked. After a line out to left, Cesar Hernandez singled through the right side. Jimmy Rollins walked to load the bases, and a wild pitch from Eovaldi scored Bernadina to tie the game at 1.
Chase Utley followed with a line-drive single to right that scored Hernandez and Rollins. The two RBIs gave Utley 10 in this three-game series.
"We got a big hit from Stanton, a two-run home run," said manager Mike Redmond, who bemoaned the lack of big hits at big times from his team just one night earlier. "Eddie Lucas gets a big hit to put us ahead in the top of the 10th. Obviously, it's something we've been looking for all year. We made it through, and that's a big win for us.
"It was a good solid effort out of the guys, but like we said last night, they don't quit. We know where we are in the standings, but give these guys a lot of credit. They wanted to lock that win up, and that's a big building block for us with a win when we had our backs to the wall there."
Michael Radano is a contributor to MLB.com. This story was not subject to the approval of Major League Baseball or its clubs.