Pierre in awe of being mentioned with DiMaggio
Pierre in awe of being mentioned with DiMaggio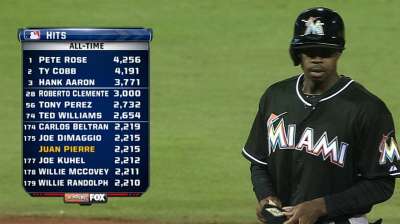 PHILADELPHIA -- As he stood on second base during a 6-4 loss to the Phillies on Tuesday night, Marlins outfielder Juan Pierre took a moment to ask Phillies shortstop Jimmy Rollins for a favor.
Pierre's pinch-hit double in the seventh inning was his 2,215th career hit. It put him in a tie for 175th place all-time with Joe DiMaggio -- who after some research was awarded an extra hit by Elias Sports Bureau earlier in the day -- and Pierre wanted the ball as a keepsake. Rollins obliged and Pierre tossed the ball into the visitor's dugout as both forgot one very important aspect of the situation: There was a game being played.
"I was like 'J-Roll, let me get that ball," said Pierre, who played with the Phillies in 2012 and grounded out as a pinch-hitter in Wednesday's 4-3 win in 10 innings. "He actually gave it to me. I threw it over the dugout. Nobody had called timeout yet and I was on the base. I think it's the first time I've thrown a live ball into foul territory on purpose.
"Somebody in the dugout, I think it was Tom Koehler told me it was a live ball. It was cool. I got the ball."
Pierre is nearing the end of his 14th season and has a genuine respect, not only for the game but for those that came before him. The veteran talked about never expecting to hear his name in the same breath as DiMaggio, and he's looked to help some of his younger teammates understand the game's history.
"I don't think some of these guys know exactly who DiMaggio was," Pierre said. "Especially being so young. But they all came up and congratulated me, so that's cool."
Pierre has also come to accept his role with the Marlins. In this his second stint with the franchise, Pierre hasn't started consecutive games since June 21 and 22. His last 31 plate appearances have all been as a pinch-hitter, and he's done surprisingly well, hitting .300 (9-for-30) with three doubles.
"I don't even want to talk about it," Pierre said of his success as a pinch-hitter. "It's amazing, because like you said I haven't done it much. It's being a little more aggressive. I've always been a patient hitter, taking pitches, working the count. Now, I'm facing a reliever that's not going to throw more than one inning, and it's being aggressive and trying to find some holes."
Michael Radano is a contributor to MLB.com. This story was not subject to the approval of Major League Baseball or its clubs.