Hamilton ties it in ninth, wins it in 11th on sac fly
Hamilton ties it in ninth, wins it in 11th on sac fly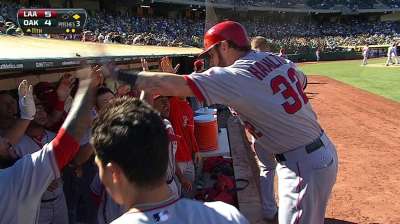 OAKLAND -- Few things are tougher on Josh Hamilton than the slow curveball that leaves the left hand of sidearm-wielding A's reliever Jerry Blevins. Hamilton feasts on the firmest of fastballs, like the Grant Balfour one he blasted for a game-tying, ninth-inning, two-run homer in Wednesday afternoon's 5-4 Angels win.
But Blevins' loopy bender is a different beast.
Heading into this series, the left-handed-hitting Hamilton had gone 1-for-10 with six strikeouts against the A's crafty southpaw. On Tuesday night, Hamilton kicked his right foot out in hopes of getting a better look at Blevins and still struck out, wailing at the methodical breaking ball with the bases loaded and two outs to keep the game tied and set up an eventual walk-off loss at O.co Coliseum.
On Wednesday, with runners on the corners and one out, Hamilton came to the plate in the 11th, Blevins came out of the bullpen, two 73-mph curveballs were tossed and two strikes went up on the board.
That prompted Hamilton to do something a hitter never should, especially with two strikes: anticipate the offspeed pitch and adjust off the fastball, rather than the other way around.
"That's what I was trying to do last night, but I just didn't wait enough," Hamilton said. "So, I learned my lesson."
Hamilton got the two-strike curveball he was hoping for -- again, at 73 -- stayed back long enough and squared it up, lofting the high fly ball to left field that brought in the go-ahead run, set up the come-from-behind victory, made Hamilton the hero and maintained the good vibrations in his clubhouse.
The Angels took two of three from the first-place A's, finishing their 10-game, four-city road trip 7-3. They've notched eight consecutive unbeaten series and are 19-7 in their last 26 games, pulling to within four games of .500 with 10 games left in what has otherwise been a disappointing season.
Their turnaround has been fueled by pitching, particularly from the starters. But one of their most uplifting signs has come from Hamilton, the $125 million slugger who hit the two-run homer that tied it and the sac fly that won it in the series finale.
Since Aug. 9, Hamilton is batting .329, raising his batting average to .245.
"I think it's really important," Angels manager Mike Scioscia said of Hamilton finishing strong, "because no matter what level guys are in their career or how much talent they have, there's always going to be confidence issues that are going to carry over from week-to-week, month-to-month. No doubt, the first month of the season, Josh was searching hard for a lot of things, and we've seen a lot of them come together in the last month. I hope it has the impact on Josh, for his confidence, that it should. This guy's a terrific player who really struggled at times early in this season."
Mike Trout went deep in his third straight contest, giving him 26 homers, 92 RBIs and 185 hits with 10 games left. Jason Vargas pitched six innings, yielding only a pair of fourth-inning two-run homers to Coco Crisp and Yoenis Cespedes. Left fielder J.B. Shuck had the defensive game of his life, gunning down Chris Young on a single in the second, leaping near the wall to snag Young's liner in the fifth and diving full extension to rob Derek Norris of extra bases in the eighth. And three young relievers -- Cory Rasmus, Buddy Boshers and Juan Gutierrez -- shut down the hard-hitting A's (89-63) for four innings to set up Ernesto Frieri's 35th save.
The Angels won't go to the playoffs, but it looks like they'll finish on a high note.
"We definitely would rather play well than not well," said Vargas, his ERA at 4.28 in 22 starts this year. "The path that we had been on, the ups and downs we've had all year, it's nice to see a nice string of good quality baseball this last month."
After Trout's first-inning two-run homer, A.J. Griffin retired 17 of 18 batters (six via strikeout). And heading into the ninth, the Angels had notched only two hits, less than a day after going 0-for-5 with runners in scoring position and plating only one run.
Then, down 4-2 in the ninth, Erick Aybar led off with a single, and with two outs, Balfour threw an 0-1, 91-mph fastball down the middle and Hamilton hit a towering fly ball over the right-field scoreboard to tie the game at 4. It was Hamilton's 21st home run and second in the last 26 games, giving Balfour his third blown save on the year.
"He's had a great year," A's manager Bob Melvin said of his closer, who still has a 2.72 ERA. "If you look at it overall, three blown saves is going to work anywhere. And actually he did have good stuff today. He just got one fastball probably not in the right spot to a pretty good fastball hitter."
Hamilton crushed the fastball, and two innings later -- after Shuck's leadoff double and Josh Donaldson's fielding error on Aybar's sac bunt -- he finally waited out Blevins' breaking ball.
"The thing with him is he has a really slow curve, throws it anywhere from 70-80 mph," Hamilton said. "You never know what you're going to get. I swung through the second curve at 73, felt like he might try to throw one a little slower, so I didn't try to do anything at all with it besides get it to the outfield."
Alden Gonzalez is a reporter for MLB.com. Read his blog, Gonzo and "The Show", and follow him on Twitter @Alden_Gonzalez. This story was not subject to the approval of Major League Baseball or its clubs.