A's lose in extras, but magic number drops to five
A's lose in extras, but magic number drops to five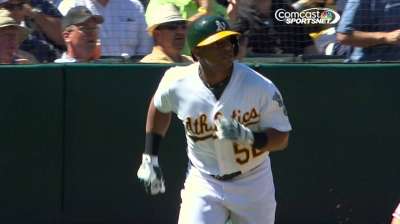 OAKLAND -- On the verge of their second straight 90-win season, the A's will have to wait at least another day to get there.
Oakland's latest attempt at yet another walk-off victory, this time in extras after closer Grant Balfour suffered just his third blown save of the season, didn't have a fairytale ending, as it was the Angels who narrowly exited with the 5-4 victory in 11 innings.
Despite the late-inning stumble, the A's magic number to win the American League West lowered to five after the Rangers lost to the Rays in 12 innings on Wednesday night. The magic number is four for a postseason spot with 10 games to play, after the Indians lost to the Royals in Kansas City.
After allowing seven runs over his previous six games, Balfour was enjoying a break from his rare woes, stringing together three straight outings without allowing a run. He struck out the side in the ninth in Tuesday's walk-off victory, and entered Wednesday's game expected to notch another clean inning with a 4-2 lead.
But Balfour quickly boarded Erick Aybar on a single and, one out later, gift-wrapped a fastball to one of the game's best fastball hitters, and Josh Hamilton did what he was supposed to do, sending a towering two-run shot to right field to tie the game.
Hamilton, whose only two career hits off Balfour in 12 at-bats are home runs, got the job done again in the 11th with a sacrifice fly off lefty Jerry Blevins, after J.B. Shuck hit a leadoff double off Jesse Chavez and advanced to third on Aybar's sacrifice bunt.
"Actually, he did have good stuff today," A's manager Bob Melvin said of Balfour. "He just got one fastball probably not in the right spot to a pretty good fastball hitter."
"He's got a great slider, little zip on his fastball, want to get a good pitch to hit, swung through the first one, tried to do it again, heater, fortunate enough to barrel it up," said Hamilton.
Balfour, who had recorded each of his last 26 saves at home dating back to April 25 of last year, entered the day ranked third in the AL in save percentage (95 percent) and exited it sitting in sixth place at 92.68.
He left the clubhouse without speaking to reporters.
"The fact that Bob runs him out there so many times and only three times the whole year it hasn't worked out, that's pretty amazing if you really take a step back from just the initial reaction from today and look at the scope of things," said reliever Sean Doolittle. "What he's done for us this year has been incredible. We wouldn't be however many games up we are now without him."
Though Balfour has been quite effective, the timing of his struggles -- along with Ryan Cook's -- is concerning, with postseason play set to open in two weeks. Balfour and Cook have combined to allow 14 runs, 35 hits and 14 walks spanning 21 2/3 innings since Aug. 16.
"You look at both those guys, and up until a couple weeks ago, they've been lights-out," Doolittle said. "So when they give up runs, everyone immediately goes into panic mode. I know that the guys on the team, when you see them coming out of the bullpen, we still expect them to strike out the side and put up zeros. That's the way we still look at them, and that's obviously the way Bob still looks at them. It's only a matter of time before it's in the rear-view. Hopefully they get it out of their system now and are good to go for the playoffs."
In that same regard, A.J. Griffin has seemingly found his stride at the right time. The right-hander gave up just one hit -- a two-run homer to Mike Trout in the first inning -- in six innings while notching six strikeouts. In his last 13 innings, Griffin's allowed three hits total with 14 strikeouts. The A's have won four of his last five starts.
"I'm just trying to stay in the moment and not letting things that happened earlier on in the outing get to me and affect the way I'm going to pitch because that's when you get in trouble," Griffin said. "That's when I was getting in trouble earlier, for sure."
Coco Crisp and Yoenis Cespedes each hit two-run homers in the third for a 4-2 lead, and Dan Otero compiled two scoreless innings after Griffin's departure before Balfour entered the game.
"He's had a great year," Melvin said. "If you look at it overall, three blown saves is going to work anywhere."
Jane Lee is a reporter for MLB.com. This story was not subject to the approval of Major League Baseball or its clubs.