Diamond more polished as Twins hold off Sox
Diamond more polished as Twins hold off Sox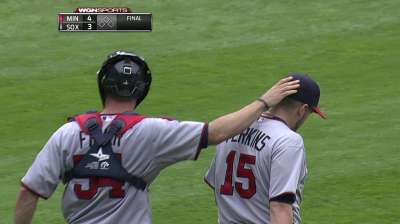 CHICAGO -- After suffering through a sophomore slump most of this year after posting a solid 3.54 ERA as a rookie last season, Scott Diamond is hoping to end the season with positive results to bring with him into next season.
His outing against the White Sox on Wednesday afternoon was a good launching point, as he bounced back from a shaky outing his last time out to register a quality start that helped lead the Twins to a 4-3 win in the finale at U.S Cellular Field, after the White Sox took the first two games of the series.
Diamond, who gave up five runs in 4 2/3 innings in his return to the rotation in his last start after a stint at Triple-A Rochester, fared much better against the White Sox. The left-hander went 6 1/3 innings, giving up three runs on five hits and two walks. It was his first quality start with the Twins since July 26 and his first win since June 20, also against the White Sox.
Diamond, who had a late start to the season after having bone chips removed from his elbow in December, figures to make at least one more start this year, and possibly two, depending on how the rotation shakes out next week.
"I think going down to Rochester was a reset for me, so I'm just trying to build off that," said Diamond, who posted a 2.02 ERA in seven starts at Triple-A after being optioned in early August. "Personally, it hasn't been that long since I got a win, but up here, it had been a while. I'm just hoping to finish the season strong. Even with the [elbow surgery] in December last year, I'm still holding strong and fighting until the end. So I'm pretty happy with it."
Diamond served up a solo shot to Alejandro De Aza to lead off the fourth inning, but he mostly cruised until running into trouble in the seventh.
Diamond walked Paul Konerko to open the inning before surrendering a one-out double to Marcus Semien. He then gave up a two-run single to Jordan Danks that knocked him from the game. Right-hander Casey Fien came in and was able to hold the lead for the Twins, striking out Josh Phegley and getting Leury Garcia to ground out to end the inning.
"I was really happy," manager Ron Gardenhire said about Diamond's performance. "He got us deep in the game. He got ahead in the count for the most part. He almost got us through the seventh. It looked like he left one up and Danks rode one through."
Diamond outpitched White Sox left-hander John Danks, who struggled early but settled down, giving up four runs on seven hits over seven innings with two strikeouts.
"There are some things I did today that were good," Danks said. "Obviously, the first two innings weren't. I think I probably got more ground balls today than I had all year. That's definitely a main focus of mine this offseason, that's how you keep the ball in the ballpark and give yourself a chance to go deeper in the game."
Minnesota scored in the first inning on an RBI single from Oswaldo Arcia to plate Alex Presley before adding on three more runs in the second. Chris Colabello, Eric Fryer and Brian Dozier each had RBI singles in the second inning.
Diamond, who retired the first eight batters he faced, said pitching with the early lead was beneficial, as it allowed him to pitch with more confidence and get ahead of White Sox hitters.
"It makes my job easy," Diamond said. "With us piling it on early, it means we have them on their heels. It means they have to take pitches, which makes my job easier because I can be aggressive and pitch ahead. So I was able to do that and the first couple innings rolled pretty easy for me."
The Twins hung on from there, with Jared Burton tossing a scoreless eighth before handing it over in the ninth to closer Glen Perkins, who picked up his 36th save. It helped the Twins claim their fourth win over their last 14 games.
"We went to our bullpen pretty early in the first two games, so at least this time we got it to the right guys this time where we could finish it off," Gardenhire said. "They did a real nice job coming in."
Rhett Bollinger is a reporter for MLB.com. Read his blog, Bollinger Beat, and follow him on Twitter @RhettBollinger. This story was not subject to the approval of Major League Baseball or its clubs.