Boost from brother's bat not enough for Danks
Boost from brother's bat not enough for Danks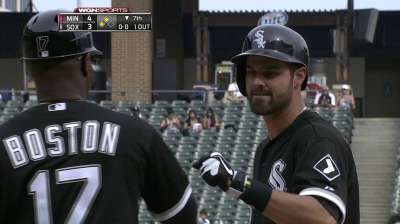 CHICAGO -- Despite settling down after the first two innings, John Danks' recent struggles continued in Wednesday's series finale against the Twins.
The left-hander retired 16 consecutive batters from the second through seventh innings, but he gave up four runs over the first two frames and dropped his fourth consecutive start as the White Sox fell, 4-3, to Minnesota at U.S. Cellular Field.
The Twins jumped out in front in the first on an Oswaldo Arcia RBI single. In the second, Ryan Doumit led off with a double and scored on a Chris Colabello RBI single. One out later, Eduardo Escobar doubled and Eric Fryer singled home Colabello. After Alex Presley popped out, Brian Dozier singled home Escobar to make it 4-0.
Danks' effectiveness after the first two innings enabled him to go seven frames, allowing seven hits overall while walking none and striking out two. He is 0-4 with an 8.02 ERA (19 earned runs in 21 1/3 innings) over his last four outings.
"Obviously, I'd like those first couple of innings back," Danks said. "I just didn't make good enough pitches, and they hit them."
Danks said that the difference between his first two innings and the last five was that he started locating his pitches down in the strike zone and that resulted in more ground balls.
"I made better pitches," he said. "There are some things I did today that were good. Obviously, the first two innings weren't. I think I probably got more ground balls today than I had [been getting] all year. … I'm glad I was able to go as deep as I did just to save the bullpen and finish strong."
"He was down in the zone a little bit more [after the second]," White Sox manager Robin Ventura said. "I think early on he just didn't have a feel up in the zone and they made him pay for it. … [He was] just elevating enough and not having a good feel is probably [why he wasn't] throwing his curveball as much. They were jumping on stuff early, and it's a little harder to mix that in. Once he got past the second inning, he got into a bit of a groove and down in the zone and just threw better."
Twins manager Ron Gardenhire said he knew his club needed to get some runs early off Danks in order to be successful, knowing that the left-hander would eventually settle down.
"We've faced that guy a lot," Gardenhire said. "He's a really tough pitcher. We were hoping to get to him early because once he gets settled we know what he can do. He can go with his changeup and use that fastball. We didn't see as many curveballs as we thought. I don't know if he had a feel for it or not. But fortunately we were able to get on him early and hang on."
Alejandro De Aza got the White Sox on the board with a solo homer to right field in the fourth. It was De Aza's 16th home run of the season and first at U.S. Cellular Field since May 10 against the Angels.
In the seventh, Jordan Danks grounded a two-run single into right field to cut the deficit to one, at 4-3, and chase Twins starter Scott Diamond.
Danks is hitting .306 (26-for-85) with six doubles, three home runs, nine RBIs, and nine runs in his last 32 games.
"I'm still just feeling pretty good at the plate and not trying to do too much," Danks said. "I'm just trying to pick good pitches to swing at and just barrel them up."
Minnesota's bullpen held the White Sox scoreless over the final two frames, with closer Glen Perkins picking up his 36th save.
Chicago had the tying run at first with one out in the eighth, but Dayan Viciedo and Paul Konerko each struck out swinging.
Ventura said that losing as many close games as the White Sox have this season takes its toll. Chicago has played 54 one-run games in 2013, the most in the Majors.
"There's too many of them," he said. "You get that feeling. … A base hit here, base hit there, a defensive play here, a pitch made -- that's what hurts about one-run games.
"When you're getting beat by seven or eight it's a different story. With this many one-run games, it's that one extra hit you get, that's what makes it tougher every night to come back is you're close but you don't get it done. … When you're close and you don't get it done it always stings more."
The loss snapped Chicago's five-game winning streak against Minnesota. The White Sox have lost eight of their last 14 against the Twins overall.
Some good news for the White Sox, however, and John Danks in particular, is that after returning from season-ending shoulder surgery in 2012, the left-hander has thrown 138 1/3 innings this season and plans on working to make more progress in the offseason.
"I'm not going to take too much time off," Danks said of his offseason plans. "In a normal offseason, I wouldn't touch a ball until the new year. My main focus in talking with [White Sox trainer] Herm [Schneider] and [pitching coach] Don Cooper is to make sure I don't take any steps back. I'll take a little bit of time off, but I'm going to continue to play catch, and I think I'll spend some time in Nashville with Coop, so that'll be good."
Manny Randhawa is an associate reporter for MLB.com. This story was not subject to the approval of Major League Baseball or its clubs.