Happ, homers not enough as Blue Jays fall to Yanks
Happ, homers not enough as Blue Jays fall to Yanks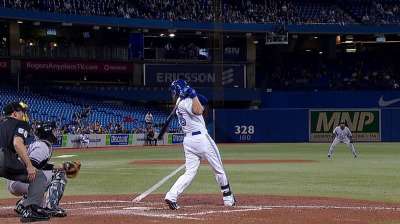 TORONTO -- For the second straight night, Blue Jays pitchers bewildered Yankees hitters at the plate for much of the game. But things unraveled quickly in the eighth.
Toronto looked to be headed toward its second straight shutout of its American League East rival before Steve Delabar allowed three straight hits to the heart of the Yankees' lineup, as New York rallied for four runs to defeat the Blue Jays, 4-3, in front of 24,247 at Rogers Centre on Wednesday night.
Delabar entered the game in the eighth with runners on the corners and none away. After striking out Alex Rodriguez, the right-hander allowed RBI hits to Robinson Cano and Alfonso Soriano to pull the Yankees within one. He then allowed both of them to score on a two-run double by former Blue Jay Vernon Wells to give the Yankees the lead.
"To come in and not get the job down, it's a slap in the face," said Delabar, who was charged with two earned runs and the loss. "Hung a split to [Cano], and he got out front and hit it pretty hard. Soriano, thought I made a good pitch down and away and he got the head to it. Then I hung another pitch to Vernon. Then just couldn't make any pitches to [Mark] Reynolds. … Just didn't get it done today."
For the All-Star reliever, it's the third straight game he's allowed at least one earned run, and he now has a 7.50 ERA over his last six outings since returning from right shoulder inflammation in early September.
However, the 30-year-old doesn't believe there are any lingering issues with his shoulder, and his recent outings are just a part of the ebb and flow of things that come during a long season of baseball.
"My last few have been kind of rough, but you're going to have outings that go the way they've been," Delabar said. "I've just happened to hit a rough bump lately, but it's not going to change my mindset from day to day. I'm going to come back tomorrow and get right back at it."
The implosion by Delabar and the bullpen spoiled a night of success for Toronto starter J.A. Happ.
Happ has been extremely frustrated by his performance of late as he has struggled with the adjustments he's trying to make on the mound. The 30-year-old left-hander is in the midst of altering his arm slot slightly, closer to three-quarter than over the top, as well as trying to consistently pitch more down in the zone.
"It obviously feels like it's a lot more than it actually is," Happ said of the adjustment. "Whenever you change that up an inch or two, it feels like a foot. At the same time, going out there today, that's the thing that's probably going to take some time. I was just trying not to focus too much on that, but today I felt good, and for the most part maintained that slot."
It's been a frustrating process, but he was able to find some consistency with his arm slot Wednesday and the early results were positive, as he allowed one run in seven-plus innings, allowing just four hits and three walks, while striking out seven.
While the line was nearly flawless, it looked like much of the same old from Happ early on. He entered the game with a 5.36 ERA, and a .259 opponents' batting average against over his eight starts since returning from an injury in August, while barely averaging five innings a game, and only once pitching out of the sixth.
In the first, Happ put runners on the corners with just one away. He would then strike out Soriano and get a flyout from Wells to escape the jam.
From there, Happ would hold the rest of the Yankees' offense in check throughout his final six-plus frames, and at one point retired 10 straight batters.
"Results-wise, it was a lot better," Happ said. "I don't feel like it was that dissimilar from the way I've been pitching execution-wise, but it's definitely nice to get results and finally go deeper into the ballgame."
"That's as good as he's looked," added manager John Gibbons. "I don't know if it's right where he wants to get it, but it's a start."
Early on, Yankees starter Phil Hughes matched Happ pitch for pitch. He allowed just two hits over his first three innings, but things gave way in the fourth.
After Brett Lawrie doubled, Colby Rasmus stroked a 2-1 offering into the second deck in right-center field to put the Blue Jays up two.
Reliever David Huff replaced Hughes, but the result was much of the same. Huff retired the first batter he faced before allowing Ryan Goins' first career home run, hit into the second deck in right field, to extend the Toronto lead to three.
That was all the offense Toronto could muster as David Robertson and Mariano Rivera combined to close out the game to complete the comeback for the Yankees.
"It looked like things were going in the same direction as they did last night," Wells said of the late-inning dramatics. "We let a couple situations slide away early in the game, and then we got another chance and took advantage of it."
While the Blue Jays have lost six of their last eight games, it hasn't been because of the red-hot Rasmus.
The home run by Rasmus marked the fourth straight game that he has hit a homer, and he now sits just one shy of his career high with 22 homers on the season. The Blue Jays' center fielder also joined Edwin Encarnacion as the only Toronto players to have a home run in four straight games this season, with Encarnacion accomplishing the feat between April 23-26.
"He's in a nice little groove," Gibbons said of Rasmus. "He's confident. He's had a heck of a year, he really has. He hit that home run, then Goins had his first one. Other than that, it was pretty bare there."
Evan Peaslee is an associate reporter for MLB.com. This story was not subject to the approval of Major League Baseball or its clubs.