Kelly leaves game with right calf soreness
Kelly leaves game with right calf soreness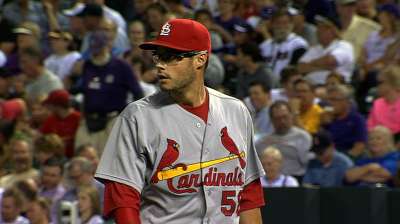 DENVER -- Cardinals starting pitcher Joe Kelly exited after the fifth inning of Tuesday's 11-4 win over the Rockies with tightness in his upper right calf.
Kelly said he wanted to keep pitching, but manager Mike Matheny didn't want to push his luck.
"Just been feeling that way lately, and it's something that's not bad, obviously, still had stuff tonight and throwing pretty decently hard," Kelly said. "Covering first base it felt a little more tight than usual and thought it was a good idea to give me some rest."
The right-hander allowed three hits and two walks in five scoreless innings. Trainers first checked on him with two outs in the fifth, but they allowed him to finish off the inning before pulling him. Kelly threw only 78 pitches, but he still picked up his sixth win in seven games and ninth of the year.
"We went out and talked to him and he said he feels it and felt it all game, but nothing different," Matheny said. "Once he got through the fifth, having a reasonable pitch count to get him out, try and save it a little bit."
After spending the first three months of the season as a reliever, Kelly has thrived since joining the starting rotation. His 1.94 ERA since June 1 is second best in the Majors over that period, trailing only Miami's Jose Fernandez.
As much as he wanted to stay in the game, Kelly realized it was the smart move, as he could be a critical piece of the Cardinals' postseason rotation.
"We're so close to the end and close to a playoff spot, so just something you don't want to risk," Kelly said.
Ian McCue is an associate reporter for MLB.com. This story was not subject to the approval of Major League Baseball or its clubs.