Pena done for year, but KC plans on Duffy returning
Pena done for year, but KC plans on Duffy returning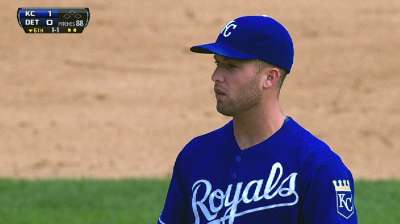 KANSAS CITY -- To make room for Yordano Ventura, whose contract was selected from Triple-A Omaha in order to start Tuesday night's 5-3 loss to the Indians, the Royals placed Carlos Pena on the 60-day disabled list.
Pena had an emergency appendectomy on Sept. 14 and will not be eligible for to return season. Pena played just four games since signing with the Royals on Aug. 27.
Even though he said he's feeling fine, left-hander Danny Duffy has been moved to the 15-day disabled list.
"When I told him we're putting him on the DL, he said, 'You know, I'm feeling better,'" manager Ned Yost said. "So we're not going to totally shut him down. We're going to be extremely cautious, too. We're not going to do anything to take any chances."
Yost announced Monday that Duffy would miss his next start in the rotation with a mild flexor strain in his forearm. Duffy has started five games for the Royals since returning from Tommy John surgery. He went 2-0 with a 1.85 ERA in that span. He will be eligible for reinstatement on Sept. 23.
After the changes, the Royals have 33 players on their active roster and 40 on the Major League roster.
Dick Kaegel is a reporter for MLB.com. Kathleen Gier is an associate reporter for MLB.com. This story was not subject to the approval of Major League Baseball or its clubs.