Schafer's walk-off bunt lifts Crew past Cubs
Schafer's walk-off bunt lifts Crew past Cubs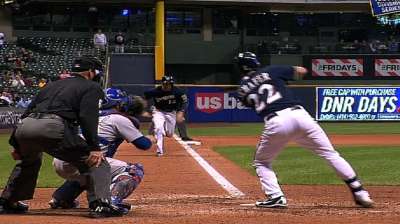 MILWAUKEE -- Brewers manager Ron Roenicke decided to give the suicide squeeze sign, Logan Schafer was expecting it and Cubs reliever Justin Grimm had no idea.
In the end, it was the perfect recipe to catch the Cubs off guard and deliver the Brewers a walk-off 4-3 win Tuesday night at Miller Park.
It was the third win in a row for Milwaukee and secured at least a split in the four-game series against the team's National League Central Division rivals.
"I'm never surprised to get the squeeze sign," said Schafer, who pinch-hit for Sean Halton with the bases loaded and one out in the ninth inning. "When you're in my role, that's what you're expected to do. I've got my glove, I can bunt, I can run. Those are the things as a bench player right now, that's my job. So I'm never surprised by the suicide squeeze, especially if it wins the game. I had it on my mind going up there, but I was ready to hit, too. I was pretty confident I was going to get the job done either way."
After taking a strike and a ball, Schafer was able to get his bat on a Grimm curveball that was high and outside of the zone to score pinch-runner Jeff Bianchi, who was moving on the pitch from third base.
Grimm, who botched a sacrifice bunt from Scooter Gennett to load the bases two batters earlier, fielded the ball well late and -- despite Bianchi having already crossed home plate with the winning run -- paused before throwing to first base to do little else but save him a few points on his ERA.
According to Elias Sports Bureau, the out at first base counts even though the game was over, making the run unearned because it would have been the third out of the inning. Because of the throw, Schafer's bunt was scored a sacrifice instead of a base hit.
No matter how it was labeled, Grimm was not happy with his inning, which included a leadoff walk, a Carlos Gomez single, a Gennett bunt -- which Grimm bobbled -- and a Caleb Gindl popout before Schafer ended the game.
"Leadoff walks never help," Grimm said. "I threw some close pitches on the outside, and they were a little out. Then the base hit, and then I don't field my position and didn't give myself any help at all. Bases loaded, and the guy got the bunt down. Maybe I should've gone fastball; I don't know. I thought it was a good pitch. I was trying to get the guy out. It didn't work out in my favor. I made it really tough on myself."
The situation was not perfect or even preferable for a suicide squeeze in the mind of Roenicke, but with a good bunter at the plate in Schafer, he gave the green light.
"Bases loaded, it's not ideal," Roenicke said. "I have to think about it when we have bases loaded, because it's a flip and a force play at home. It's so much easier than having to tag at home, so most guys won't do it there. … But I got the perfect situation, and the count was 1-1, a tough count to pitch out in. I just liked the matchup there."
Schafer's bunt completed a comeback that started with Gomez's career-high 20th home run, a two-run shot that tied the game at 3 in the seventh inning. Gomez turned on a 1-2 Jeff Samardzija splitter and lined it just over the fence down the left-field line.
With the home run, Gomez became only the sixth center fielder in Brewers history to reach 20 home runs in a season. He joined Gorman Thomas, Robin Yount, Mike Cameron, Davey May and Marquis Grissom. Grissom hit 19 homers as a center fielder in 1999 and one as a pinch-hitter.
"I didn't know if it was going to be high enough," Roenicke said. "I turned to Jerry [Narron, his bench coach], and I said, 'We could use a home run somewhere.' And Gomey is doing a nice job."
The blast evened the game after Brewers starter Marco Estrada let a 1-0 lead slip away via three Cubs runs in the top half of the inning.
Estrada faced one batter over the minimum through six innings, but he ran into trouble quickly in the seventh. Junior Lake lined a leadoff double to the left-field corner, took third on Anthony Rizzo's groundout and slid safely home just ahead of Norichika Aoki's throw on a sacrifice fly from Ryan Sweeney to tie the game. Nate Schierholtz had walked prior to Sweeney's sac fly, and he came around to score on Welington Castillo's go-ahead home run, a liner to left field off an Estrada changeup -- a pitch the right-hander said was not quite there all night.
But Estrada made it through the seventh and secured his fourth quality start in seven tries since returning from the disabled list after recovering from a hamstring injury Aug. 7.
"Obviously, this could all depend on what happens next here," Estrada said. "So I'm trying to do the best that I can, because I'd love to stick around with this team. I know everybody here -- I'm pretty comfortable here -- so I'd love to stay here. But this game is a business. I'm trying my hardest to show these guys that I belong here, and hopefully they give me the opportunity for next year."
Estrada was pinch-hit for after throwing seven innings, allowing three earned runs on four hits while walking one and striking out seven. He threw 93 pitches, 62 for strikes.
Samardzija was equally as effective, lasting seven innings and allowing three earned runs on five hits, walking two and striking out eight. Samardzija passed 200 strikeouts on the season and threw 106 pitches, 69 for strikes.
Kevin Massoth is an associate reporter for MLB.com. This story was not subject to the approval of Major League Baseball or its clubs.