Shark shows fire around 200th K as Cubs fall
Shark shows fire around 200th K as Cubs fall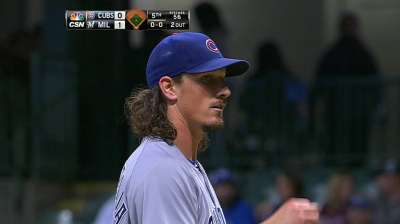 MILWAUKEE -- Jeff Samardzija reached 200 innings and 200 strikeouts in one season for the first time in his career and also notched his first recorded dugout argument with coach David Bell.
Carlos Gomez smacked a tying two-run homer in the seventh, and pinch-runner Jeff Bianchi scored on a suicide squeeze bunt by pinch-hitter Logan Schafer in the ninth to lift the Brewers to a 4-3 victory Tuesday night over the Cubs at Miller Park. But back to the ninth in a minute.
In the Milwaukee sixth, the Brewers led by 1-0 when Norichika Aoki tripled down the right-field line. Samardzija escaped any damage as Jean Segura popped up and Jonathan Lucroy hit into a fielder's choice with Aoki getting caught in a rundown. Lucroy tried to reach second on the play, but he was thrown out.
After the inning ended, Samardzija and Bell got into a heated discussion in the dugout. It was the second argument in as many days for the Cubs. On Monday, Edwin Jackson and manager Dale Sveum had an animated shouting match in the dugout when Jackson was pulled.
The problem between Samardzija and Bell was that the pitcher was not happy with the positioning of first baseman Anthony Rizzo against Aoki. That's Bell's job.
"They were just screaming a little bit about our strategy," Sveum said.
But in back-to-back games?
"Sometimes that happens," Sveum said. "We've obviously been fortunate to not have anything like that happen. Unfortunately, it's back-to-back nights. Tonight, that was really nothing."
"We were just talking strategy," Samardzija said of the disagreement.
"Some of the best teams I've ever been on, and the best players I've been around, this stuff happens quite often, unfortunately," Bell said. "It's not something you want to have happen, but in the heat of the moment when you're competing, like I said he does, and we all do, I think things like this are going to happen. The best teams and best players, it seems to happen more. It's not a big deal."
How much of a competitor is Samardzija? Before any reporter could ask a question, Bell said, "I love everything about this guy, the way he competes and the way he cares and the way he goes about everything, and his intensity. It's going to make him a great pitcher for a long time. I absolutely love the guy."
Samardzija has seen plenty of brouhahas during his Cubs career involving Carlos Zambrano and former manager Mike Quade. On a scale of what he had witnessed in the past, the right-hander graded Tuesday's incident a "1."
"There are a lot of cameras out there; that's the way it is," Samardzija said. "It's just competitive dudes, man, playing to win a game. It's good to see. People care. Our record isn't where we want it to be right now, and nobody's happy about it. We're out here scraping and clawing and doing everything we can to win a ballgame.
"'Belly' is the epitome of that, of doing whatever he can to win a ballgame," Samardzija said of the third-base coach. "He cares; everyone on this team cares. Nobody is happy where we're at as a team, and we just want to win every game we can. We've had some pretty good characters here on these teams that would overshadow this."
In his second full season as a starter, Samardzija is the first Cubs pitcher to reach 200 in both innings and strikeouts in the same season since Ryan Dempster did so in 2010.
Samardzija began the night needing five strikeouts and 5 1/3 innings to reach the marks. He recorded the key strikeout in the fifth when he fanned Sean Halton for the second out. He finished his seven innings with eight Ks, giving the right-hander 203 over 201 2/3 innings.
The Brewers took the lead in the second on Gomez's sacrifice fly. Junior Lake doubled to lead off the Chicago seventh against Milwaukee starter Marco Estrada, and one out later, Nate Schierholtz walked. Lake scored on Ryan Sweeney's sacrifice fly, and Welington Castillo followed with his eighth home run to put the Cubs ahead, 3-1.
But Samardzija walked Aramis Ramirez to open the Brewers' seventh, and Gomez followed with his 20th home run off a hanging slider to tie the game.
"Besides one pitch, he was really good," Sveum said of Samardzija. "He used his fastball, pitched inside, did really well pitching inside and had his fastball working really well."
In the Milwaukee ninth, Justin Grimm walked Ramirez, who was lifted for Bianchi, and he moved up on Gomez's single. Scooter Gennett then bunted, but he was safe on an error by Grimm, who could not field the ball cleanly and whose throw pulled Rizzo off the bag. With the bases loaded, Caleb Gindl popped up to shortstop Starlin Castro, and Schafer bunted to Grimm, with Bianchi scoring.
"Leadoff walks never help," Grimm said. "I threw some close pitches on the outside, and they were a little out. Then the base hit, and then I don't field my position and didn't give myself any help at all. Bases loaded, and the guy got the bunt down. Maybe I should've gone fastball; I don't know.
"I thought it was a good pitch [to Schafer]," Grimm said. "I was trying to get the guy out. It didn't work out in my favor. I made it really tough on myself."
Schafer felt he caught Grimm off guard.
"I saw how Justin Grimm kind of caught it and was like, 'Now what do I do?'" Schafer said. "Then he hesitated and threw it to first. It's pretty surprising -- with the bases loaded and one out, you're not really thinking about a suicide squeeze. But I pride myself on all facets of the game, especially bunting, so I knew I had that ability and the coaching staff had that call, and it worked out well."
Guess that depends on one's point of view.
Carrie Muskat is a reporter for MLB.com. She writes a blog, Muskat Ramblings, and you can follow her on Twitter @CarrieMuskat. This story was not subject to the approval of Major League Baseball or its clubs.