Offense rallies late to keep Tribe close to Wild Card
Offense rallies late to keep Tribe close to Wild Card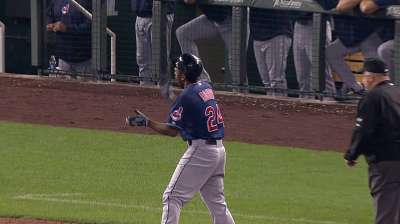 KANSAS CITY -- The Indians played in a postseason-type atmosphere in Kauffman Stadium on Tuesday night. An energized crowd, witnessing meaningful September games after so many forgettable seasons, did all it could to intimidate a Cleveland club also hoping to experience October.
The Indians refused to go down without a fight.
The Tribe used a late comeback to steal a 5-3 victory against Kansas City, spoiling the Major League debut of highly-touted Royals prospect Yordano Ventura. The win increased the distance between the Indians and Royals in the standings, and helped Cleveland remain only a half-game behind the Rays and Rangers for one of the American League Wild Card spots.
"Tonight was one of the more gratifying wins I've been a part of," Indians manager Terry Francona said. "You've got two good teams playing hard. Fortunately, we got out of here with a win."
With Texas' win against Tampa Bay, the two teams are now tied atop the pack of teams vying for the AL's Wild Cards. The Orioles, Yankees and Royals all sit within 3 1/2 games of a potential playoff spot as well. Kansas City and Cleveland split the first two games of this critical series, making Wednesday's finale important for the season's home stretch.
The Indians (82-69) secured a winning season for the first time since 2007 and are 5-1 on their swing through Chicago and Kansas City.
In the wake of the win, Cleveland players were understandably in great spirits. Nick Swisher unsuccessfully attempted to distract starter Corey Kluber during a television interview. At one point, utility man Mike Aviles ran off laughing with reliever Vinnie Pestano's plate of food in hand. Amid the intense pressure that exists on the field, Cleveland is having a blast behind the scenes.
Team Lazarus, seemingly rising from the dead so many time this season, knows what's at stake.
"We're not done," Swisher said. "We're going to keep pushing. We're going to do everything we can because we want this, and we want it bad."
For most of Tuesday evening, though, Kansas City appeared in control.
In the first inning, the Royals picked up a run against Kluber, who issued a one-out walk to Emilio Bonifacio before surrendering a double to Eric Hosmer. Bonifacio helped ignite a two-run push in the third inning with a single, stolen base and run scored on a sacrifice fly from Salvador Perez. Mike Moustakas followed with an RBI double that put the Indians behind, 3-0.
Kluber, making his third start after a stint on the disabled list with a sprained right middle finger, was pulled at 79 pitches, three batters into the fifth inning. The right-hander was spotty with his command, issuing three walks in 4 2/3 innings to help convince Francona to turn to his bullpen earlier than usual.
"You can't do that in the middle of the season," said Francona, who is armed with 15 relievers this month. "We used a bunch of our roster tonight."
Cleveland's relief corps held Kansas City (79-72) in check and gave the Indians' offense time to rally.
After being silenced for the first five frames by the 22-year-old Ventura, the Tribe finally broke through for a run in the sixth. With two out, runners on the corners, and the Kauffman Stadium crowd on its feet and roaring, Michael Brantley pulled a pitch from the rookie righty through the infield and into right for a run-scoring single that trimmed Kansas City's lead to 3-1.
The local fans were quieted for a moment, but soon cheered Ventura as he headed off the field and tipped his cap after a solid debut. Ventura, starting in place of injured lefty Danny Duffy, allowed the lone run allowed on five hits in 5 2/3 innings, ending with three strikeouts.
What made Venture so effective?
"Other than the fact that he was throwing 100 mph?" Swisher said with a laugh. "You've never seen the guy. You get scouting reports, but those arent always right. So, yeah, we've just got to get ready for that next time. He really went out and did a good job."
The rookie wound up with a no-decision due to what took place following his exit.
The Indians kept pushing against the Royals' strong bullpen, scratching two runs across in the seventh to pull the contest into a 3-3 deadlock. Kansas City reliever Kelvin Herrera hit Yan Gomes with a pitch to start the rally. Michael Bourn followed by ripping a pitch into right field, where the ball skipped long enough to allow him to use his speed and collect a run-scoring triple. Swisher then brought Bourn home with a sacrifice fly to left field.
"Every last one of their dudes throws hard. Every last one of them," Bourn said of Kansas City's bullpen. "You've got to be ready and try to do what you can against them. That doesn't happen too often against them, but we were able to do it tonight. It's not easy against them. You've got to really fight."
Cleveland took the lead in the eighth inning, when Asdrubal Cabrera sliced a pitch from Wade Davis to deep left field, where the ball caught the end of outfielder Alex Gordon's glove before dropping for a double. Drew Stubbs, pinch-running on the play, scored easily from second to put the Tribe ahead, 4-3.
In the ninth, Bourn provided an insurance run with a solo home run off Luke Hochevar.
"He turned that game around with a couple swings," Francona said of Bourn. "He makes us go."
Bourn said it was easy to feed off the energy in the ballpark.
"I liked it, man," Bourn said. "Kansas City's fans came out and supported their team. We're just hoping for the same when we get back to Cleveland. We've only got one more homestand for the whole year, so we would like that. It's our last week and a half. We just want somebody to be behind us to help push us to that playoff spot.
"When you play in that atmosphere, you like it. It gets your blood flowing. It felt like a playoff atmosphere -- it did."
Jordan Bastian is a reporter for MLB.com. Read his blog, Major League Bastian, and follow him on Twitter @MLBastian. This story was not subject to the approval of Major League Baseball or its clubs.