Trout's historic homer overshadowed in Oakland
Trout's historic homer overshadowed in Oakland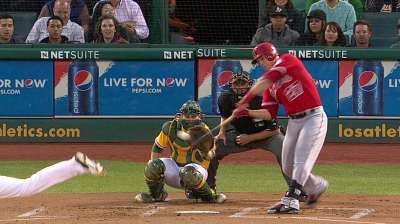 OAKLAND -- It always hurts to surrender a walk-off hit.
It's even more painful when you give them up on an 0-2 count.
"Any time you get a hitter 0-2, it's time to put him away in that situation," Angels reliever Michael Kohn said. "I didn't do my job."
With the bases loaded, two outs and a tied game in the bottom of the ninth at O.co Coliseum on Tuesday night, Kohn missed badly against Josh Donaldson. His 0-2, 95-mph fastball "wasn't nearly high enough," but it was hit plenty hard into center field, handing the red-hot Angels a 2-1 walk-off loss to the first-place A's.
"Facing him earlier in the year, he threw me a lot of fastballs; would blow it past me every time," Donaldson said after his third walk-off hit this season. "Tonight, I was looking dead heater. The first one was up, I swung through it. The second one, almost an identical pitch, I end up hitting but just barely fouled it off. The last pitch that I got the hit on right there, I was just trying to find the barrel and hopefully it finds a hole somewhere there."
Donaldson's single handed the Angels only their seventh loss in their last 25 games. The setback was a byproduct of going 0-for-5 with runners in scoring position -- one night after going 7-for-15 while plating 12 runs -- and it spoiled a night in which Garrett Richards once again dominated, pitching seven-plus innings of one-run ball to put his ERA at 2.90 in 11 starts since rejoining the rotation.
The 25-year-old right-hander scattered seven hits, walked two, struck out six and used his curveball more often than usual to get out of tough jams, limiting the A's to one hit in eight at-bats with runners in scoring position.
"I don't really get discouraged when guys get on base," Richards said. "I believe in myself and know that I can work through it."
Mike Trout put the Angels on the board with a homer to straightaway center field in the first inning, one night after hitting a prodigious, two-run, 452-foot shot to center. With that homer, Trout -- 22 years, 40 days old -- became the second-youngest player in Major League history with 25-plus homers and 30-plus steals in one season, with the youngest being himself last season. He's also the first player in American League history with 25 homers, 30 steals and 100 walks.
But the Angels couldn't do much else against right-hander Sonny Gray and the A's relievers.
For six innings, Gray matched Richards pitch for pitch, giving up only Trout's homer and four other hits, walking one and striking out five to put the 23-year-old rookie's ERA at 2.50 in 54 innings.
In the seventh, A's right-hander Ryan Cook loaded the bases by plunking Howie Kendrick and Trout. But Josh Hamilton struck out swinging at a full-count breaking ball from lefty Jerry Blevins to end the threat.
Two innings later, the A's (89-62) finally took advantage.
Former Angels third baseman Alberto Callaspo led off with a single to left field and was replaced on the bases by speedster Jemile Weeks, who reached second on a fly ball to Hamilton in left-field foul territory.
After an intentional walk to pinch-hitter Jed Lowrie, Coco Crisp drew a full-count walk that prompted Angels manager Mike Scioscia to go to a five-man infield against left-handed-hitting first baseman Daric Barton. Barton struck out, and the Angels went back to their normal alignment.
But Kohn's 0-2 fastball caught way too much plate, handing him his first loss since July 31 -- the last of three straight walk-off losses in Texas.
"Mike almost got back from the brink," Scioscia said. "He was one pitch away. He just didn't get the fastball to Donaldson and he hit it. You have to give [Donaldson] credit. He made a mistake there on an 0-2 count.
"He had an idea of what he wanted to do. It's important. It was just a matter of executing, and he didn't quite get it done."
Alden Gonzalez is a reporter for MLB.com. Read his blog, Gonzo and "The Show", and follow him on Twitter @Alden_Gonzalez. This story was not subject to the approval of Major League Baseball or its clubs.