Pirates' postseason push takes hit from Friars
Pirates' postseason push takes hit from Friars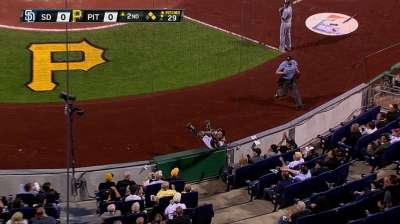 PITTSBURGH -- The Pirates have spent a season of renaissance rewriting their depressed recent history, chapter by chapter, but still do not have a solution for the San Diego Padres.
That quandary graduated from a nuisance to a major problem on Tuesday, when the Bucs were again shown up by the Padres, 5-2, while each of the three teams with which they are involved in a stretch scramble won big.
"It's simple: Pirates love tomorrows," manager Clint Hurdle said, when these particular Pirates had nothing but tomorrow to embrace. "Everybody is aware of what's going on, where we are."
They are at a slightly depressed place following the Padres' 13th win in 14 games here. The Cardinals broke their tie with the Pirates atop the National League Central and now lead them by a game after beating the Rockies. The third-place Reds moved within 1 1/2 games of the Pirates with a win against the Astros. And the Nationals -- yes, the Nationals -- charged within six games of the No. 1 NL Wild Card spot after sweeping a doubleheader against the Braves.
A duel between left-handers Eric Stults of the Padres and the Pirates' Jeff Locke was decided early.
Again, Jedd Gyorko's homecoming advantage trumpeted the Pirates' home-field advantage. In front of hundreds of friends making the pilgrimage to PNC Park in his honor, the Morgantown, W.Va., product ripped a three-run homer to start the scoring in the third inning and was also the centerpiece of a seventh-inning rally that irked the Bucs and the 22,520 fans in attendance.
A soft single by Chris Denorfia and a questionable decision by first baseman Gaby Sanchez -- he let Will Venable's bunt roll in hopes it would veer foul, as the batter ran right by him for a single -- preceded Gyorko's blast into the left-field seats for a 3-0 San Diego lead in the third.
"Came on actually a pretty good pitch, inside. The guy just got to it," Hurdle said.
"He tried to sneak a fastball in," Gyorko said. "He'd done the same fastball the pitch before and it kind of got in on me. I just wanted to make sure I got the head out, I didn't want him to beat me again and I got a good swing and just enough of it to get it out."
Asked what he himself saw in that sequence, Locke smiled and said, "I saw it go over the fence, that's about it. I come in with a two-seamer, and it ran into his barrel.
"It's frustrating to have two guys on base, and one pitch later everybody is cashed in," Locke added. "And I've been able to strand guys all season. Goes to show -- you can't take anyone lightly, got to make pitches to everybody in the lineup."
Somewhat surprisingly, given PNC Park's left-field dimensions that favor southpaws, that was the eighth homer given up here in 78 2/3 innings by Locke -- compared to only two in 83 2/3 road innings.
The Pirates came alive with two outs in the bottom of the third. Locke led off by blooping a single halfway down the left-field foul line, but the next two batters went quietly before Andrew McCutchen smoked a ground-rule double into the left-field seats. Marlon Byrd's single to right-center scored both Locke and McCutchen.
The inning ended with Byrd, hustling to score the tying run, being thrown out at home. He had advanced to second when Venable misplayed his single for an error and, when Sanchez bounced a ball over the mound for an infield single, rounded third and continued home. But shortstop Ronny Cedeno quickly recovered the ball and fired a strike to catcher Nick Hundley to erase Byrd.
That ploy flopped because, of all things, second baseman Gyorko didn't come up cleanly with the ball. Byrd was counting on him fielding it.
"We needed them to field the ball and throw to first. He makes the play and throws to try to get Gaby, I have a chance to score," Byrd said. "Unfortunately for us, he didn't field the ball, and it kicked right to Cedeno."
At the time, no one could have known that not only would that be the closest the Bucs would come to scoring the rest of the night -- but that they would not hit another fair ball out of the infield. That's being bottled up big time, by Stults and the three relievers who finished up for him.
"They kept the ball down," Hurdle said. "Their infielders were ready and making plays."
"The boys played great, they really did," San Diego manager Bud Black said. "I thought all night long we kept making good plays."
Locke let the Padres have one of the runs back in the top of the fourth, yet still managed to turn it into an apparent positive. Because, after the Padres cast a pall over the park by loading the bases with none out, they cashed only one run, on a double-play grounder.
"The damage control there kept us in the ballgame," Hurdle said. "We have to find a way to do more on offense. We've [scored] in one inning in the last 18; we've gotta do a better job."
San Diego added on a seventh-inning run against Bryan Morris, a strike begun when Gyorko beat the pitcher in a race to first base after ricocheting a comebacker off his glove. Morris thought he'd won the race and that Gyorko should have been out -- and the Pirates really thought Gyorko was out on a subsequent pickoff throw.
First-base umpire Tim Welke held his ground, and Gyorko held the base only briefly -- because soon he was moving to second on Chase Headley's single, then home on another single by Tommy Medica, making it 5-2.
The pitching lines for the two left-handers were remarkably similar -- the difference being that Stults didn't let anything leave the yard.
Locke went five innings on a yield of four runs and seven hits, with three walks and five strikeouts.
Stults, too, was finished after five -- having made the exact number of pitches as Locke, 89. He also allowed seven hits -- but only two runs -- while walking one and fanning five.
Tom Singer is a reporter for MLB.com and writes an MLBlog Change for a Nickel. He can also be found on Twitter @Tom_Singer. This story was not subject to the approval of Major League Baseball or its clubs.