Flynn falters as Marlins' late rally falls short
Flynn falters as Marlins' late rally falls short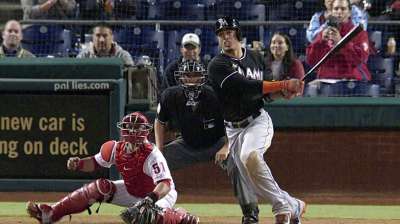 PHILADELPHIA -- The Marlins haven't had much go their way this season as they've integrated a young roster against Major League competition.
But they've forged on, and with 11 games left on the schedule, they haven't quit. On a chilly Tuesday evening at Citizens Bank Park, the Marlins trailed by five runs after seven innings and yet, with two outs in the ninth, they were one big hit away from a win.
"I was happy with the way we battled," Marlins' manager Mike Redmond said. "And really have all year long. They never quit. They've kept battling all year long.
"We got the situation we wanted to give ourselves an opportunity to tie the game and go ahead to win the game, and it just didn't happen -- still waiting on that one big hit to put us over the top, and it's just been tough to get."
On a night Juan Pierre made a little personal history -- his pinch-hit double in the seventh inning was his 2,215th career hit, putting him in a tie for 175th place all-time with Joe DiMaggio according to Elias Sports Bureau -- the Marlins' late rally fell short in a 6-4 loss to the Phillies. Starter Brian Flynn took the loss as he allowed six runs on 11 hits in six innings, twice being victimized for three runs in a single frame. Phillies starter Roy Halladay got his fourth win of the year despite not having the stuff that made him a prize free agent in 2010.
"I never set out to pass any of these guys," Pierre said. "I never thought I would be in the position to. But you go back and everybody knows what Joe DiMaggio brought to the game, and just to be mentioned in the same breath is pretty cool."
Down 6-3 to start the ninth, the Marlins did made things interesting against Phillies closer Jonathan Papelbon. For a Marlins team that had not come back from more than a run in the ninth inning all season, three straight two-out singles by Ed Lucas, Christian Yelich and Giancarlo Stanton was certainly a good way to start as the Marlins pulled within two with the go-ahead run at the plate in the guise of Justin Ruggiano.
But Papelbon stuck out Ruggiano to end the threat.
"They get a couple of big hits, the home run there [by Chase Utley] put up three runs, and that ends up being the difference. That's something offensively we just haven't been able to do," Redmond said.
The Marlins' night could be summed up by a bizarre play in the first inning. Yelich hit a two-out ground ball to Utley, who threw the ball wide and off the fence in front of the Phillies' dugout. Phillies catcher Carlos Ruiz picked the ball up and ran over and tagged Yelich. First-base umpire Angel Hernandez ruled that Yelich was out because he had made a turn for second.
Replays indicated otherwise, but that one play set the tone for the Marlins, who have 11 games left in the season to prepare for 2014.
The Marlins' offense, ranked last in baseball with a .231 team batting average, struggled against Halladay, who used an arsenal of offspeed pitches to keep hitters on their heels. They did break through in the fifth to pull within 3-1, as Donovan Solano hit a two-out double and Lucas followed with an RBI single, but with Halladay on the ropes after a walk to Yelich, Stanton popped out to first to end the threat.
Locked in a scoreless tie, the Phillies broke through on Flynn in the third inning.
With one out, Cesar Hernandez singled to center and Rollins followed with a bloop single that landed just inside the right-field line. Utley followed with a single into left field, and Hernandez beat Yelich's throw for a 1-0 lead. The throw allowed Utley to move up to second, which opened the door for a two-run single by Ruiz and a 3-0 Phillies lead.
"I felt happy mechanically," Flynn said. "It was better than my last two outings. But obviously, I made some mistakes up in the zone and paid for them."
Flynn faced more trouble in the fifth when he allowed a one-out single to Hernandez, and Rollins followed with his second single to move Hernandez around to third. Utley then hit his second three-run home run in as many nights to hand the Phillies a 6-1 lead.
"We opened with a slider outside the zone," Flynn said. "We came back and wanted to get a strike, because I didn't want to fall behind 2-0, but I hung another slider, and he hits it."
"I think it shows we're still fighting, and that we haven't given up," Redmond said. "I think the guys put together some good at-bats, and as a manager, you can see that they are still in it. You can see them thinking, 'If I can get on, the next guy gets on to get the big boys up there, then we have a chance to do something."
Michael Randano is a contributor to MLB.com. This story was not subject to the approval of Major League Baseball or its clubs.