Drawing spot start comes as relief to Fife
Drawing spot start comes as relief to Fife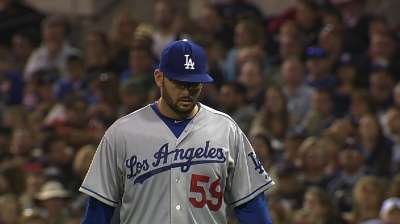 PHOENIX -- The good soldier that he is, Stephen Fife says he'll do whatever the Dodgers ask of him.
But the truth is that Fife is a creature of habit to an extreme, a personality trait for a pitcher better suited to starting than relieving. So, when told his next assignment is a spot start in place of Clayton Kershaw Wednesday night, Fife was, well, relieved.
"My last two appearances have been in relief and that really hasn't been part of the plan of my career," Fife said. "Relieving for me is a challenge. It's interesting having to get going in three or four minutes. I've tried to learn how. But basically, all I've ever done in my baseball life is start and I'm definitely more comfortable starting."
In those two relief appearances, Fife allowed seven earned runs in five innings. In nine starts for the Dodgers this year, he's 4-3 with a 2.47 ERA. Those numbers would probably give him a regular job in just about any rotation that doesn't have Kershaw, Zack Greinke, Hyun-Jin Ryu, Ricky Nolasco, etc.
Fife is one of 11 starting pitchers the Dodgers have used this year. Although he was ninth on the depth chart coming into Spring Training, Fife has made more starts for the Dodgers this season than Chad Billingsley, Josh Beckett, Ted Lilly or Aaron Harang.
Ken Gurnick is a reporter for MLB.com. This story was not subject to the approval of Major League Baseball or its clubs.